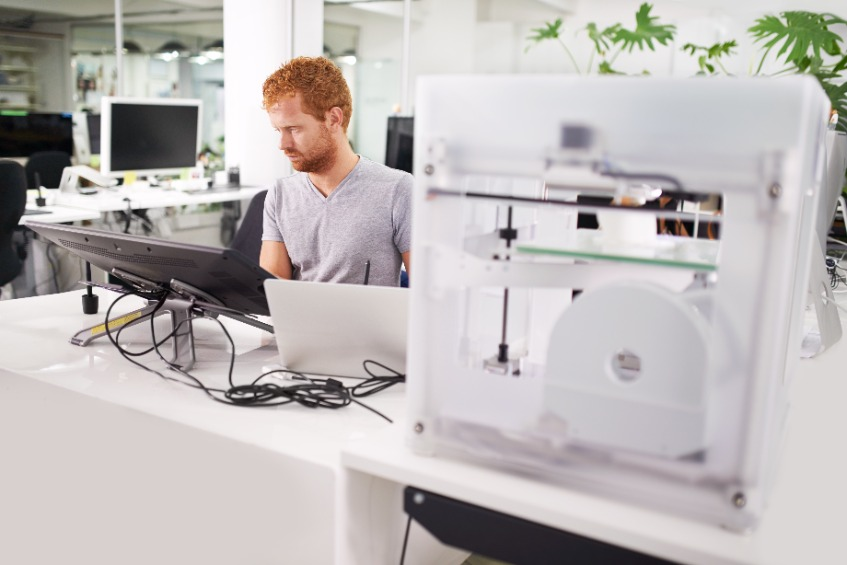 Hardware is hard. This phrase is quite popular among people involved in the creation of manufacturing businesses or how it is commonly called "hardware startups". My attention was caught by the article and discussion started by Jos Voskuil and Alex Bruskin on LinkedIn and Jos' article – PLM and Startups. Check the article and form your opinion. Main Alex's observations about PLM and hardware startups.
– all startups use #solidworks, and none use #catia or #nx – none of them have a PLM system, nor an MES. I am 90% certain none of them have ERP either. They are apparently using #excel for all these purposes. – only a handful of them are considering getting a PLM system in the near future.
In Jos' article, he speaks about startup companies and two ways a company can take with regards to the PLM system – (1) evolutionary; (2) forward-looking.
Path #1 Often the main purpose of a startup company is to be visible on the market with their concept as fast as possible. Startups are often driven by a small group of multifunctional people developing a solution. In this approach, there is no place for people and reflection on processes as they are considered overhead. Only when you target your solution in a strongly regulated environment, e.g., medical devices and aerospace, you need to focus on the process too. Therefore it is logical that most startup companies focus on the tools to develop their solution. A logical path, as what could you do without tools? Again statistics show it is not likely that advanced tools like NX or CATIA will be chosen for the design part. More likely mid-market products like SolidWorks or Autodesk products. And for data management and reporting, the logical tools are the office tools, Excel, Word and Visio.
However, in path #2, the startup should have a longer-term vision. Instead of choosing the obvious tools, they should focus on their company's most important value streams. They have the opportunity to select integrated domains that are based on a connected, often model-based approach.
Hardware Startups Priorities and Needs
Manufacturing innovation of the last decade introduced us to a new category of startups developing physical products. It is great that we now have 3D printing, systems on a chip, and capital that is interested to invest in the building of new manufacturing companies. It is an entire ecosystem and I found it very interesting. You can see a special group of investors focusing on the creation of hardware businesses. Check some of these links – Top 10 Harward Investors. If you're in Boston, you should be checking Bolt – investing in the intersection of the physical and digital world.
For the last several years I've been following and talking to many people and companies involved in the building of manufacturing businesses. Check some of my articles back in 2015 and 2016 with some of my earlier thoughts about PLM for hardware startups. At OpenBOM, I've been working with many hardware startups. It gave me a lot of knowledge about what these companies need and how PLM technologies can help these companies.
Here are 5 things that important for hardware startups:
The main focus of any startup on it is to prove that its product is needed by customers and to build a sustainable business. As much as hardware development is more affordable now than before, a study from CB Insights analyzed 400 failed hardware startups, and found that they fail are to 1) a lack of consumer demand and 2) a high burn rate.
Typical hardware development of many products strictly follows phases – (1) prototype; (2) small batch; (3) production scale. There is very little focus on the product development process during the first two phases. Most companies will use contract manufacturing for the first two phases.
Manufacturability is one of the most important things because no matter how great is your idea if the product you want to build cannot be manufactured at scale with the quality needed, your business won't happen. '
Hardware companies don't have the time and resources to decide what tools to use. For most companies, CAD tools are the main engineering tool used by startups. The decision is usually done by engineers and budget/availability. History and funding status can play a role and, although most of the companies will be using low-cost tools first, when it comes to sophisticated engineering design, you will see complex design tools such as CATIA, NX, and others. It can also happen when startups (especially in the automotive industry or aerospace) need to work with other components provided by other companies.
Hardware companies pay very little attention to data management and their needs are usually focused on the following 3 functional elements: 1/ how to store design and manage file (design) revisions; 2/ how to manage inventory and purchasing for prototyping; 3/ how to prepared and share/exchange data with contract manufacturing companies.
What PLM technologies are used by hardware startups
There is a very little intersection between the current mainstream vision of PLM systems and the activities of hardware startup companies. Most current legacy PLM systems are expensive tools that require complex implementation and process adaptation.
For most situations, engineers are saving files and managing revisions by simple DYI PDM tools (eg. Cloud Drives, Share Point) or embedded PDM tools provided by cloud CAD systems (eg. Autodesk Fusion360 or Onshape).
Hardware startups are looking for PLM tools when they have a need to use a Bill of Materials, organize change processes, and communicate with contract manufacturers. This is the time when hardware startups start asking questions like – how to manage BOM revisions and how to organize the ECO process to ensure CMs won't get the wrong information. The last is a function of money – sending the wrong revision of the BOM and files to CM ends up with a high burn.
What is the ideal PLM system for hardware startup?
The type of system that needed for a hardware startup is very different from PLM systems offered by PLM vendors to larger companies. Leaving the license cost outside of the equation, most PLM systems are focusing on engineering tasks and paying near zero attention to inventory, product cost, and procurement. Another aspect of hardware startup needs is efficient collaboration in a multi-disciplinary design and manufacturing team with very little overhead. People don't have time to learn how to operate complex PLM environments. Regulation and certifications are important elements, especially for hardware companies working on consumer, medical, and other products that required specific regulation. A typical PLM system doesn't do much in this space.
These are my 5 characteristics of what system is needed for hardware startup:
A (simple) CAD data management (PDM) to keep track of design versions
BOM management integrated with cost calculation,
Inventory, RFQ, and Purchasing functions (for both OTS and custom parts)
Collaboration and change management control (especially for contract manufacturing)
QMS, regulation, compliance (dependent on the industry)
It is not important if you call this system PLM or any other "three-letter acronym". Also, hardware startups have very little capacity to learn and manage any system. Usually, all engineers and other people involved in startups are very constrained in time and learning is a luxury for many of them.
Doing business with hardware startups?
A brutal reality of startups is their longevity and resource availability. Startups are vulnerable and have high mortality rates. The last is a big problem if PLM solutions require implementation and don't have fast ROI. Startups don't have the financial resources and people to implement and organize PLM solutions. All startups are looking for out-of-the-box tools with minimum implementation time.
What is my conclusion?
Doing business with startups is generally hard and hardware startups are not an exception to this rule. Traditional PLM concepts have very little relevance to hardware startup goals. In my view, for PLM software vendors, a hardware startup is an opportunity to bring new products and develop new concepts of PLM software that can be later applied to larger businesses. Just my thoughts…
PS. For the last five years, I worked with many hardware startups and many of them became successful using OpenBOM (disclaimer- I'm CEO and co-founder). Many ideas, concepts, and functions I'm talking about above are implemented in OpenbOM. Check customer stories of many startups for more information.