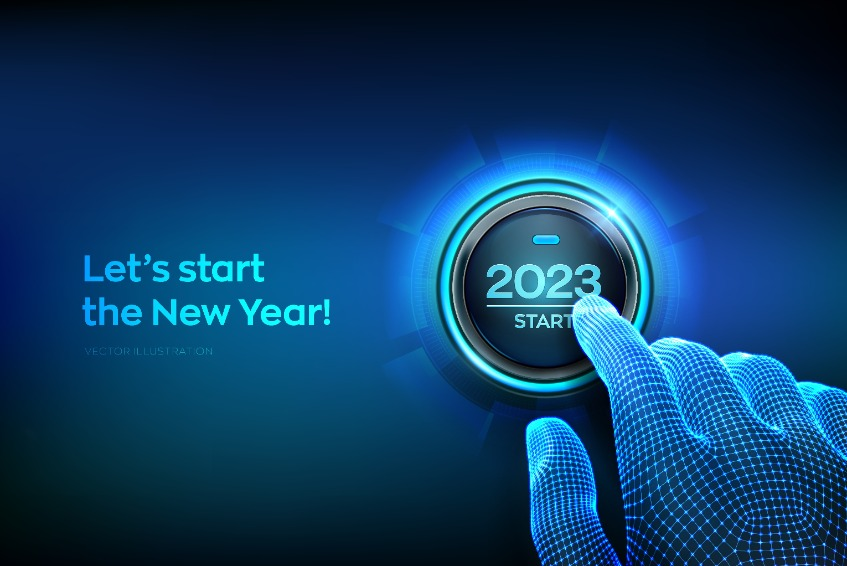 Happy New Year 2023! As the holiday season is coming to the end, it is a great time to share some of my thoughts about the future of PLM. Prediction is hard, especially when it comes to the future. Nevertheless, we are guilty of making our predictions again and again. I remember the prediction about the future obsolescence of 2D drawings after 3D CAD systems, which never materialized. Even more, I can see how much energy and effort, cloud 3D CAD software developers put into the creation of reliable 2D drawings. The product lifecycle management industry also had some great predictions about the future of the cloud in the 2010s that are currently becoming a reality. There is no better way to predict the future than invent them by yourself. Therefore, take all my predictions with the grain of salt, as I'm working on the OpenBOM platform. Some of my predictions are coming from the deep involvement of the new technological development we do at OpenBOM.
Using the past to predict the future
It is very tempting to use past experience to predict the future. Earlier this week I published my Beyond PLM Reflection on 2022. I'm collecting the history and experience of solution development in computer-aided design (CAD), product data management (PDM), supply chain management (SCM), product lifecycle management (PLM), manufacturing processes, and enterprise resource planning (ERP) to think about what is the future of these technologies and products. There is one thing all these vendors and product development organizations have in common – customers. The strong trend of the past few years is to pay less attention to the names (or TLAs – three-letter acronyms) and focus on the value for the customers. In the manufacturing industry, the value of the information is skyrocketing and I can see how vendors are shifting their focus on the data. And the data is the best way to analyze the past and predict the future.
I will use the same structure of the article I used in my Beyond PLM Reflection on 2022 to talk about the world & business, technology, PLM, and some personal projects I want to share.
World and Business
Unfortunately, I don't see a rosy forecast for geopolitical tensions. The pendulum is swinging and after a decade of increased global cooperation, I can see a growing number of signs of how some countries and regions are focusing on placing borders between themselves and the rest of the world. There are different forms of borders – virtual (internet), trade (taxes), and sometimes even physical walls.
Growing geopolitical tensions and pushback in globalization created supply chain challenges and triggered processes of re-thinking of manufacturing dependencies on traditional suppliers, manufacturing strategies, and plans. While changes are always not welcome (this is a natural thing for humans), the crisis has the potential to innovate and create new opportunities. In the world, it will be related to the new energy development and innovative methods of product lifecycle management and product development process management. We need more data management and data analytics to support a sustainable product's lifecycle in the reality of the modern world. New PLM solutions will come out of this situation.
On the business side, I can see an increased focus on relationships between vendors and customers. The subscription business was a starting point, but it is growing and moving towards building a strong connection between vendors and industrial companies and manufacturers and their customers. This triple chain – technology, vendors, customers, and their customers will become more and more important as the industry will be focusing on connected product lifecycle management.
Technology
Two main topics are in my technological bag for 2023. One of them is related to data management, data processing, and data quality. The second one is related to the practical application of AI methods.
An increased focus on data will trigger future innovation in data management, real-time data availability, data sharing, and optimization. Existing data management technologies such as databases (eg. graph databases) and modern cloud architecture computing will be used by PLM to build new architectures of data processing. The demand for better data management is available now and new technology platforms will be formed to build the future product lifecycle.
AI was around for some time, but the application usage was limited. I think we are coming to the point when technologies are becoming more friendly and applicable in business applications. During the holiday break, I experimented with some of them Open AI (Dall.E, Chat GPT, and some others), Github Co-pilot, and some others, and found them very interesting and promising.
Product lifecycle management (and beyond)
The connected product lifecycle management I was talking about the earlier and growing importance of data will shape the strategies of product lifecycle management development in 2023. It will be related to PLM platforms, data sharing, intelligence, and data value creation.
Enterprise SaaS momentum will continue. At this point, companies are mostly focused on how to offload their IT challenges and PLM system maintenance problems back to PLM vendors. Hosting existing PLM platforms solves this immediate problem, but it won't stop there. As manufacturing companies will continue to invest in thinking about the future of IT architectures and product lifecycle management strategies, they will discover limitations of existing legacy PLM platforms and will be looking for a better way to manage data, and processes and, especially, how to glean intelligence from the data.
Optimizing processes based on real-time data, eliminating data re-entry by switching to data sharing, and, establishing of product knowledge graph (digital thread) to facilitate better decision-making – these are the top 3 predictions from my side about
Personal
Shh… I'm working to come back to the PLM book project with some new very exciting partnerships and soon will share more information about it. Stay tuned.
What is my conclusion?
I'm super excited about 2023. Despite the growing complexity of the geopolitical situation and financial uncertainty in the world, I can see the current situation as the biggest opportunity to re-imagine the status quo of manufacturing business processes and product lifecycle. Crisis time is always the best time to innovate. The concept of the PLM system didn't change for a long time since it was invented back in the 2000s to support the traditional product development processes and manufacturing business strategy. But the reality of modern manufacturing business is different from what we had 20 years ago and industrial companies are looking at how to support a modern product lifecycle and process management using new digital technologies to gain a competitive advantage industrial companies need in a modern world. Just my thoughts…
Best, Oleg
Disclaimer: I'm co-founder and CEO of OpenBOM developing a digital cloud-native PDM & PLM platform that manages product data and connects manufacturers, construction companies, and their supply chain networks. My opinion can be unintentionally biased.