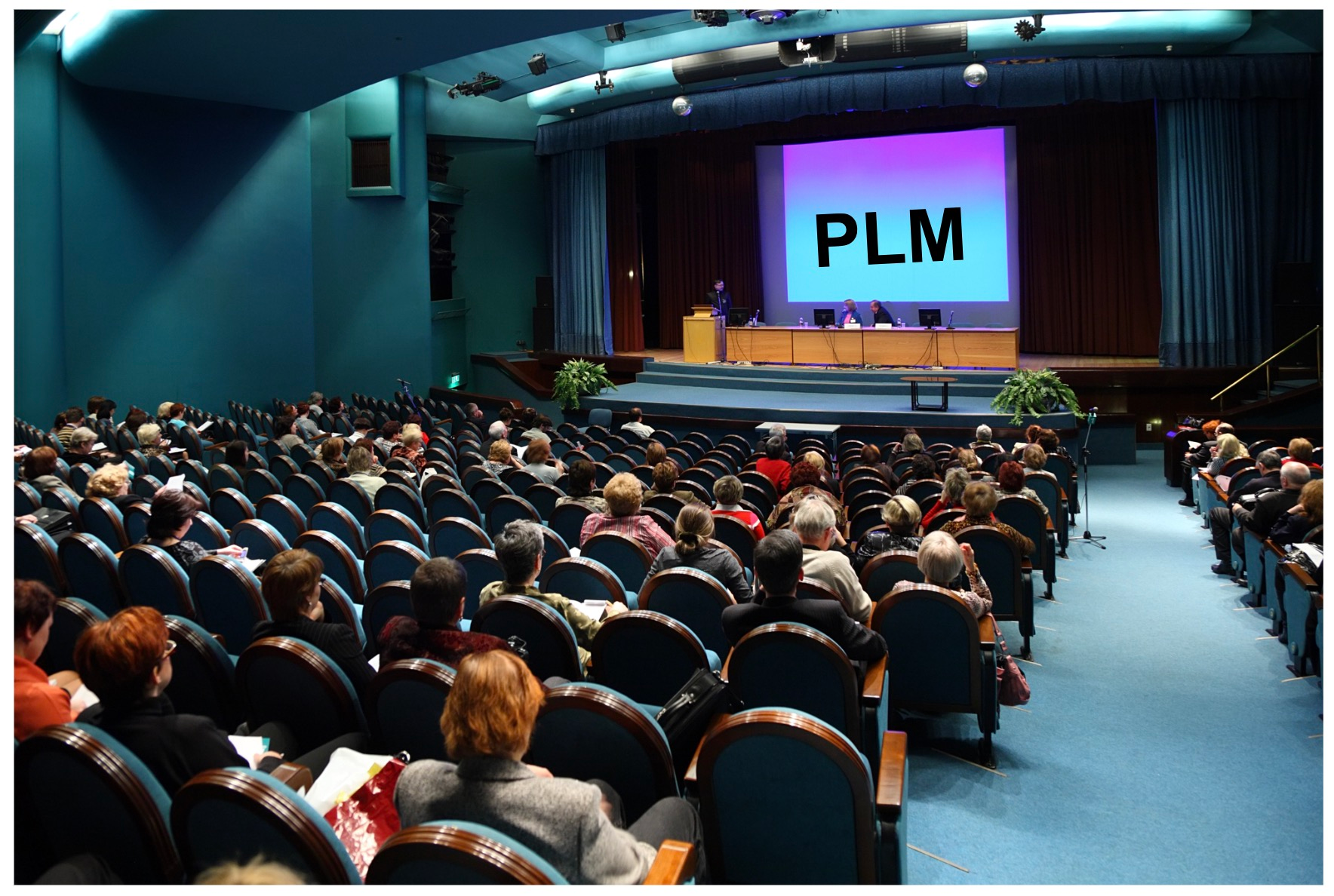 Are you seeking an efficient, cost-effective solution for managing product lifecycle information or searching for a way to integrate multiple systems in your organization? PLM software and PLM business strategy are the answer to your question. For the last 20+ years, the PLM industry leapfrogged from being focused purely on engineering tasks and extended to cover much broad range of topics starting from requirements and system engineering and ending with maintenance and operations. However, with years of experience in PLM, I found that many PLM concepts and software principles can be quite intimidating.
PLM helps organizations manage their product data with a single source of truth by providing improved traceability and visibility of products throughout the production process. The wide range of topics covers product computer-aided design, PLM solutions, product data management, manufacturing and partially enterprise resources planning, supply chain management, related business processes, and the broad scope of the product value chain and product lifecycle. Modern topics and trends are including digital twins, digital threads, real-time data access, machine learning, and strategies used by global manufacturers to implement PLM solutions and to cover their product's lifecycle. Companies are not looking for a specific PLM system or PLM solution, ht looking at how to develop a holistic strategy to manage up-to-date information and product lifecycle for a broad scope of industrial companies and businesses.
To get started with utilizing PLM, it's important to understand what PLM technology entails and how to implement it within your organization—but where do you begin the journey?
Where to learn about PLM?
Earlier last week, I posted a poll on my LinkedIn page with questions about where people are getting information about Product Lifecycle Management (PLM). Our professional lives are changing dramatically. Internet, social networks, videos, and many other sources of information transformed the way we learn and communicate. I believe that having a better understanding of the sources that people are using to learn about PLM can help us all make more informed decisions about our own education and professional development. Please navigate to the following link to vote.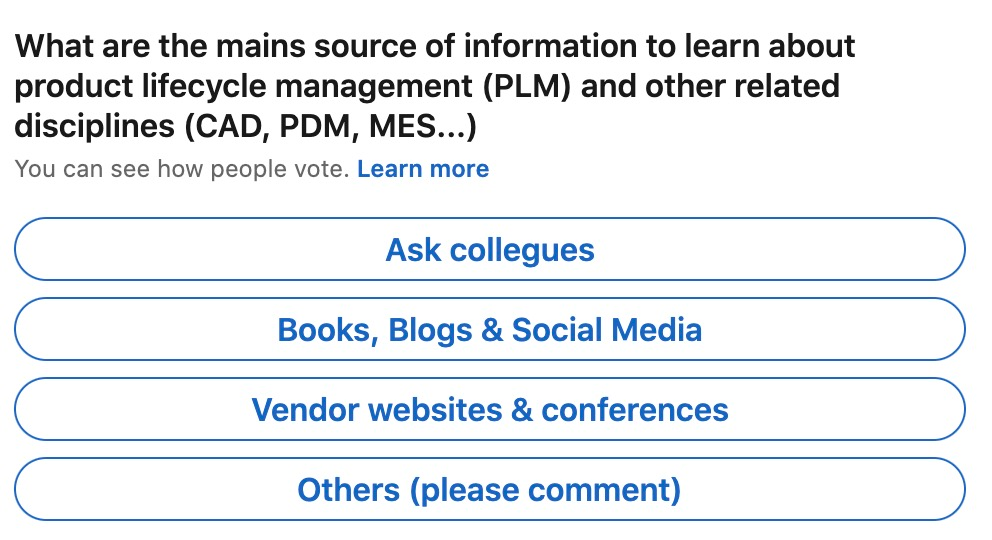 In my earlier article, I was covering what are books, blogs, and other online sources where you can learn about PLM. Check this out – How to find the best books, blogs, and other resources about PLM in 2022.
PLM Conferences are coming back
It is 2023 and the world is leaving the past 3 years of the pandemic and coming back to live conferences – another great source of learning where you can not only read and watch but meet with people and talk. Last year, I had my first experience with live conferences after the pandemic. Check my last year's article – In-person PLM events are coming back. Where to go? As I can see from the publication and announcements this year, live events are coming back and I look forward to bringing this experience back on my agenda and hope to share more with all my readers.
This blog post will explore where aspiring manufacturing businesses can go to learn more about implementing a successful PLM strategy.
2023's PLM Conference Lineup
The world of PLM conferences is divided into two groups – (1) industry & analyst events and (2) PLM vendor events.
Analysts and Industry Events
There are not many independent PLM events in this world. Here are a few events to put on your list to visit.
CIMdata Industry and Market Forum. The event takes place in multiple locations starting from North America (Ann Arbor, MI) and then going to Europe and Asia Pacific. In the past, all events were in person, but as far as I can see for the 2023 calendar, US and European events will be in person and all other events will be virtual. I plan to attend the event at Ann Arbor and hope to meet some of you there.
CIMdata PLM Roadmap and PDT North America 2023. This event roots back to the CPDA PLM roadmap, but within the time was combined with the PDT Europe event, which is managed by CIMdata together with Eurostep. In the past, I attended these events and they are very balanced and thoughtful where you can meet great speakers and have a deep conversation about various scope of PLM topics. Jos Voskuil covered the last year's (2022) European event here – check it out. I'm still checking the agendas and holding my decision to participate.
PI DX USA 2023. This is one of the rare events in the PLM ecosystem. Organized by UK-based Market Key, the event established itself as a focused and vendor-independent venue where you can meet vendors and customers as well as listen to interesting presentations. I attended the last PI DX USA 2022 (check my PI DX 2020 Atlanta – Data Management Strategy article) as well as multiple PI events in US and Europe in the past. You can check reports on my blog (2015, 2016, 2018, and 2019). You can see actually the very first agenda of the PI event back in London in 2011.
CAD and PLM Vendor Events
Here is the list of vendor events. Most of them are coming back in the 2023 calendar.
Aras ACE 2023 (Orlando, FL) 2-3 May 2023. This is the main place to meet Aras people and customers. Before COVID, it was a very powerful event. This year, it will be the first event introducing a new Aras leadership.
Autodesk University 2023(Venitian Las Vegas, November 13-15, 2023). This is a prime place to meet all Autodeskers in a single place.
Autodesk Accelerate. The event originally was focused on Autodesk PLM 360 but is currently focused on a broader scope of Autodesk Fusion360 software. I don't see any event planned yet for 2023.
3D EXPERIENCE World (Nashville, TN) 13-15 February 2023. Formerly Solidworks World, the event was transformed by Dassault Systemes into an event focusing on DS and 3DEXPERIENCE platform. Still, the best place to meet all Solidworks people and DS executives. (It was my last event before COVID in Feb 2020).
3D EXPERIENCE North America Forum (Nashville, TN) 13-15 February 2023
Realize LIVE. This is a Siemens PLM event that covers all branches of Siemens PLM software. There is Realize LIVE Americas (Las Vegas, Nevada | June 12-15, 2023) and Realize LIVE Europe
(Munich, Germany | July 10-12, 2023). Japanese event will be virtual.
SAP Saphire. A large and multi-country SAP software extravaganza. I always wanted to attend the event but had no chance to make it. I'm sure some parts of this event will be focused on PLM, but I was not able to find it yet. I noticed SAP made the PLM Info Day 2022 event in their US office in Newtown, PA. But I didn't see that event for 2023.
Oracle Live on Demand (fully online) and Oracle Cloud World (live on Sep 18-21, 2023 Las Vegas, NV). PLM topic will be there as part of Oracle's strategy to introduce a new cloud supply chain solution, which is supposed to cover PLM topics as well. Check Oracle Supply Chain Event materials.
SuiteWorld 2023. This is the main place to meet the Oracle NetSuite team. A huge event, but not very big about PLM. I expect it to change in the future and look forward to learning more.
PTC LiveWorx 2023 (Boston, MA) 15-18 May 2023.
PROSTEP IVIP Symposium 3-4 May 2023 (Stuttgart, Germany). This event is good for anyone who is involved in the automotive business and especially in Germany. A good line of presenters from the industry and exhibition was there in the past (I attended it in 2015, check my articles here and here)
CAD and PLM User Forums
PTC User. This is the largest independent user group for PTC software. The last in-person event was in 2022, but I don't see the 2023 calendar planning yet.
COE (Community of Experts, formerly known as CATIA Operator Exchange). This is a user group organized by Dassault Systemes CATIA customers, but as far as I can see expanding to other branches of DS software. The next announced event is for April 16-19 in Miami, FL.
Online Event Worth Checking
I want to mention two online events in CAD and PLM space that you might consider too.
Onshape Live 2023. This is a one-day primary spot to see all Onshape people and related new announcements. The event is online only.
Propel CONVERGED. This is an online user conference for Propel PLM vendors and customers.
Demystify Modern PLM by OpenBOM and Share PLM. The event was organized by OpenBOM and Share PLM and focused on innovation and PLM education coming from both OpenBOM (disclaimer – I'm OpenBOM CEO).
What is my conclusion?
In our ever-evolving digital world, having an effective and efficient product lifecycle management (PLM) strategy will be even more critical for companies in the manufacturing sector. To ensure that your organization remains competitive, it is important to stay ahead of industry trends and technologies—and there's no better way to do that than attending relevant PLM conferences. PLM events are coming back and I'm excited to have an opportunity to meet some of you in person in 2023.
PS. If you think, I missed some of the important events, please comment or send me a direct email.
Best, Oleg
Disclaimer: I'm co-founder and CEO of OpenBOM developing a digital cloud-native PDM & PLM platform that manages product data and connects manufacturers, construction companies, and their supply chain networks. My opinion can be unintentionally biased.