I'm continuing to digest what I learned earlier this week at Dassault Systemes 3D Experience World 2023 in Nashville, TN. The forum was transformed from what was formerly known as Solidworks World, and it is probably still the biggest gathering of mechanical engineers in the world. Solidworks community is also probably the biggest MCAD community and, according to the presentation done by Suchit Jain, VP of strategy counts 7M users.
The cloud is changing the way that businesses operate, with remote access to data and improved scalability. It's especially beneficial in manufacturing, as staying ahead of trends and maintaining a competitive edge are so important. Solidworks has long been an industry standard for product design and development in the manufacturing world, but many users have yet to explore its potential in combination with the cloud. SOLIDWORKS is the biggest brand name in MCAD and is super popular. It is probably the default choice for most companies looking for a professional 3D MCAD tool.
In such a context, one of the biggest questions in the industry is what will be the path of all SOLIDWORKS users to cloud computing services. How the current Solidworks desktop environment will move to the cloud. Moreover, also how data will be managed in the future SOLIDWORKS environment in the cloud. Current Solidworks PDMs (Standard, Professional, and Manage) are all legacy products developed ~20 years ago and use SQL databases with a heavy client-server architecture.
In this blog post, I'd like to share some of my thoughts after watching presentations at 3DEXPERIENCE WORLD 2023.
The Beginning of SOLIDWORKS and Cloud Computing
A long time back in SOLIDWORKS World 2010, Jeff Ray, former CEO of Solidworks said – Let's kill Solidworks. Check the SolidSmack article for more information. A few passages from that time spoke about Solidworks, cloud, and technology [Note- V6 is a former name of what later developed as 3DEXPERIENCE platform].
"[SolidWorks] V6 is not a product. It's a platform and we have fully embraced the V6 platform. That's why I stood on stage and said that we are going to use the ENOVIA PLM because that to me is the right online platform."
"[SolidWorks] will have direct modeling. But it will not be it the way people are doing it today because we are not constrained with Windows… You will see us continue to enhance Instant3D. There a lot of things that we can do there and we will continue to do that. The way Direct Modeling is done now is all sexy and nice to demo. But it is a hammer in search of a nail. "
"[At SolidWorks World 2011] we'll show Connect which is a personal data sharing web based V6 technology. This is the first step of online and its serves a market right now that isn't being served…And obviously we'll be showing SolidWorks 2012 as well."
It is interesting to compare plans and the timeline. More than a decade later, Solidworks desktop MCAD is still a powerful desktop tool, but the 3D EXPERIENCE platform is coming to be combined, integrated, and eventually replace with SOLIDWORKS. Let's talk more about it.
This is a current "stock" marketing image of the 3D EXPERIENCE platform distributed for everyone who wants to understand what the "platform" is and what capabilities it provides Solidworks users.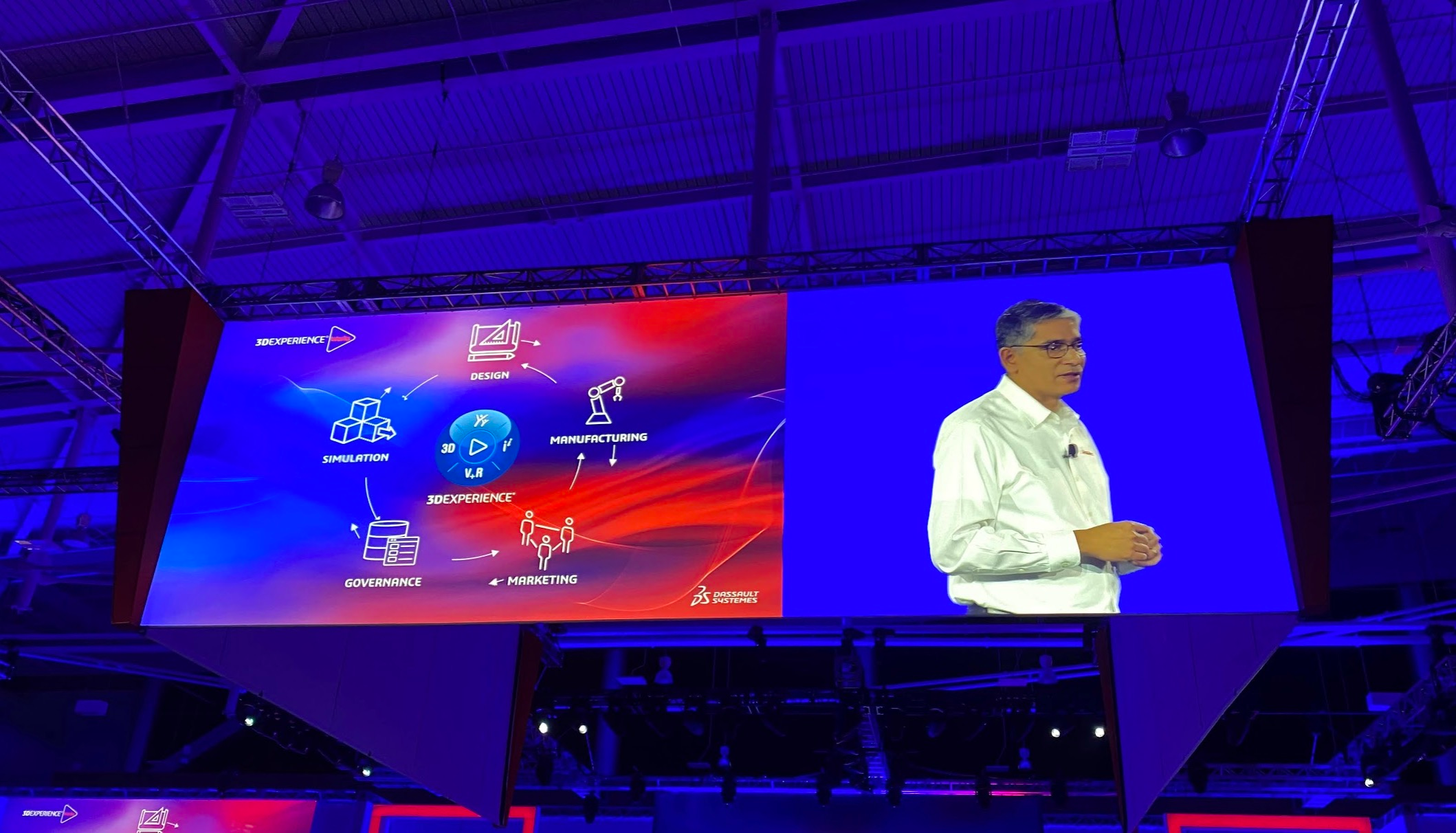 The Platform and Cloud-Services
From the opening keynote announcement by Gian Paolo Bassi, Senior Vice President of 3DEXPERIENCE and former CEO of SOLIDWORKS, we learned that from July 1st, 2023 every seat of SOLIDWORKS will include cloud services.
It was not shocking or surprising, but it is clearly a step up in the game of making SOLIDWORKS users adopt the 3D EXPERIENCE platform. Later, in the same keynote, Manish Kumar, CEO of SOLIDWORKS presented all options SOLIDWORKS users will have to get from the SOLIDWORKs environment to the platform.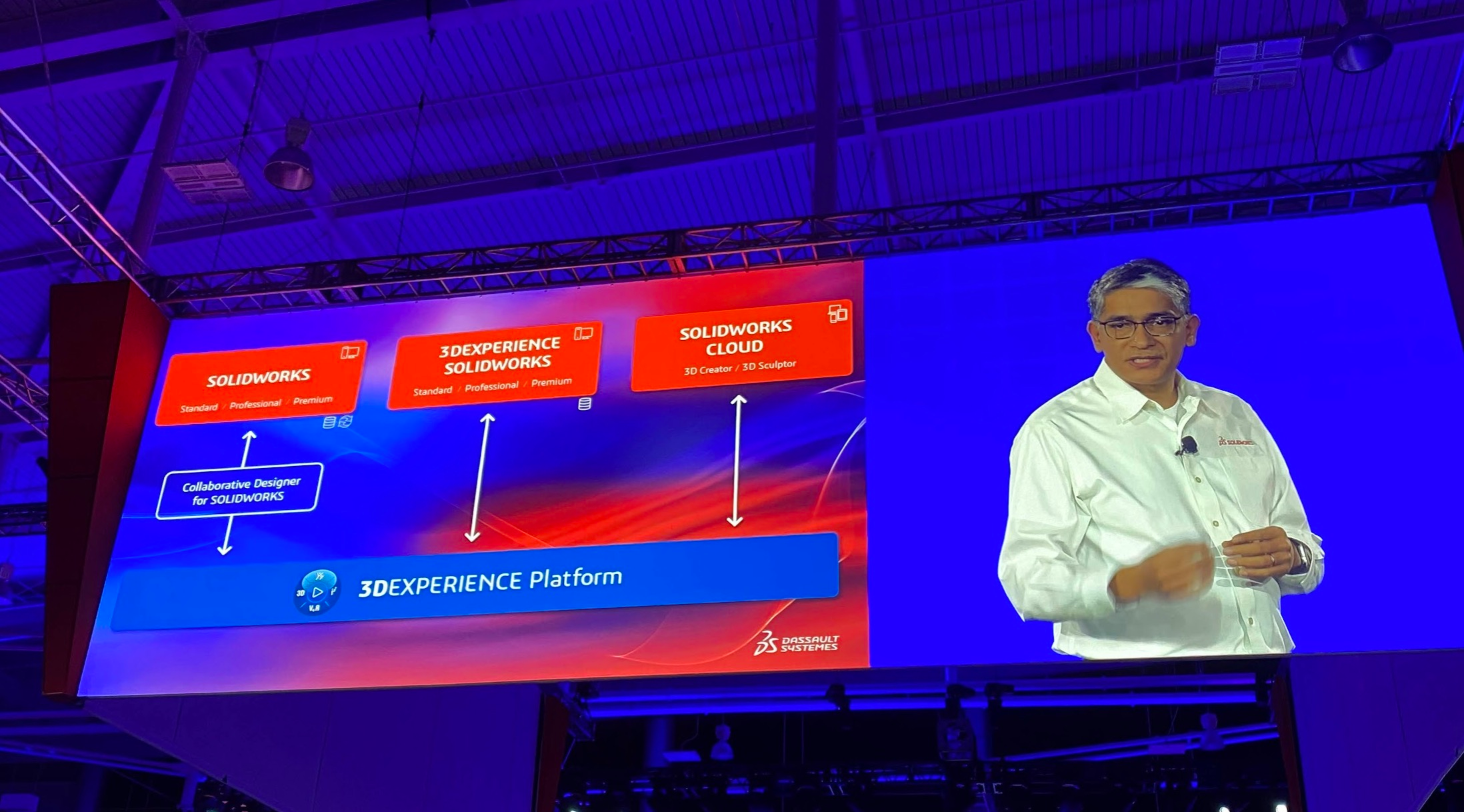 How Cloud Services and the "Platform" impact SOLIDWORKS users
The really important question is how all these new "platform" capabilities will impact customers. The current announcement doesn't include anything revolutionary because almost all the capabilities presented above are already available for SOLIDWORKS in one way or another. Licensing is important and might impact the cost of SOLIDWORKS seats with the inclusion of cloud services. But that would not be the most important question that all Solidworks customers will be asking, in my view.
The question about data and how information flow will be organized or reorganized is the most critical for all customers. Here are two reasons why.
Data is one of the most important elements of the modern digital environment. I was writing about it many times. Data will be changing the manufacturing landscape and impact everything we do these days. You can see it in Gian Paolo Bassi's presentation in the first keynote slide – Data is an enabler. How the "platform" will change is really important.
The reality of all SOLIDWORKS customers is that they work in a folders/files environment that practically didn't change since the time Solidworks was created. A traditional PDM environment available for Solidworks is very much folders/files focused. Changing it and moving to the cloud services will have the biggest impact and to be honest one of the most disruptive factors Solidworks customers will be experiencing for the last 20+ years.
What is my conclusion?
Cloud services and the 3DEXPERIENCE platform is bringing a major transformation to the SOLIDWORKS customers community. The data storage paradigm will be changed, existing information flows will be changed, and a lot of customer-oriented workflows will be changed. Many customizations made by Solidworks partners and service providers will be changed as well. How the SOLIDWORKS community will be adopting these changes is the real question to ask. Just my thoughts…
Best, Oleg
Disclaimer: I'm co-founder and CEO of OpenBOM developing a digital cloud-native PDM & PLM platform that manages product data and connects manufacturers, construction companies, and their supply chain networks. My opinion can be unintentionally biased.