Hello everyone, the summer is in full swing. The Q2 is over and everyone is I can see how engineering and manufacturing professionals are preparing for some relaxing time over July and August. At the same time, summer is a great period to get ready for the business towards the end of the year. PLM software and PLM implementation are no exceptions. To have it planned carefully and prepare your organization for PLM implementation is a critical step to getting it done successfully.
PLM Implementation Complexity
For many organizations, PLM implementations can be a rollercoaster ride filled with twists and turns. From my experience, PLM implementations aren't just about choosing the right software or tools. They involve grappling with a multitude of factors that can make the whole process feel like solving a complex puzzle. From integrating different departments and systems to aligning business processes and managing stakeholder expectations, the intricacies of PLM implementations can be overwhelming.
So, if you've ever felt lost in the labyrinth of PLM implementations, you're not alone. How to deal with the complexity of PLM implementations? Where to start? Let's say you've got a PLM implementation project planned because your organization decided that managing data and processes using Excelware and homegrown tools is a bad idea or your previous PLM implementation was done 20 years ago using a tool that barely supported by a vendor, or you already implemented PLM, but looking how to expand the scope of the implementation and looking how to develop your PLM strategy.
To make your PLM implementation successful, you need to come up with a set of planning steps. Those planning steps are very critical because they will help you to choose the right technologies, decide about processes and best practices.
In my blog today, I want to touch on the issue of how OCM (Organizational Change Management) and PLM implementations are coming together and what is needed to build your unstoppable PLM implementation strategy plan.
OCM (Organizational Change Management)
PLM implementations are not only about technologies and products. It is about people and finding the right way to bring change to a company together with PLM technologies tools and introducing new processes. Any process (even a very bad one) is a status quo that needs to be changed. And the changes are hard, regardless of how bad the status quo and existing processes are in your company.
PLM Advisors blog How to Get Everyone to Accept the New Solution? Doing OCM as an Integral Part of the PLM Implementation Project speaks about how OCM can be used together with PLM implementation stages to make a more successful implementation. The proposal is to have OCM an integral part of PLM implementation. Here is the passage that speaks about it.
The problem with this approach is that OCM is run like a separate effort. The project team proceeds with the solution design, the configuration, the testing, the data migration, the deployment and go-live preparation, and the post-go-live support. The communication to stakeholders and the user training are basically done in parallel: The project team, and maybe there is an OCM lead, sends out a weekly email to everyone informing them about the progress, and a few weeks before go live user training is scheduled to teach everyone how to use the new system. 
The much better and ultimately more effective approach to OCM is to integrate all activities into the implementation activities. Include users and stakeholders in the solution design, the testing, the data migration, the training and deployment preparation, and the post-go-live support. Make them part of everything, or even better, make them own everything.
The suggestion is to choose people from different organizational departments and divisions to represent them in the overall planning. Here is the passage describing a proposal:
Now of course we cannot have 500 users attend the solution design sessions or test the system. But like in a democracy, where we have a government that consists of representatives of different states or political areas, we can form a core team that consists of representatives of different business units and functional areas affected by the new PLM solution.
While the idea to have a representative forum is a good one, in my view democracy cannot efficiently be used for PLM implementation planning.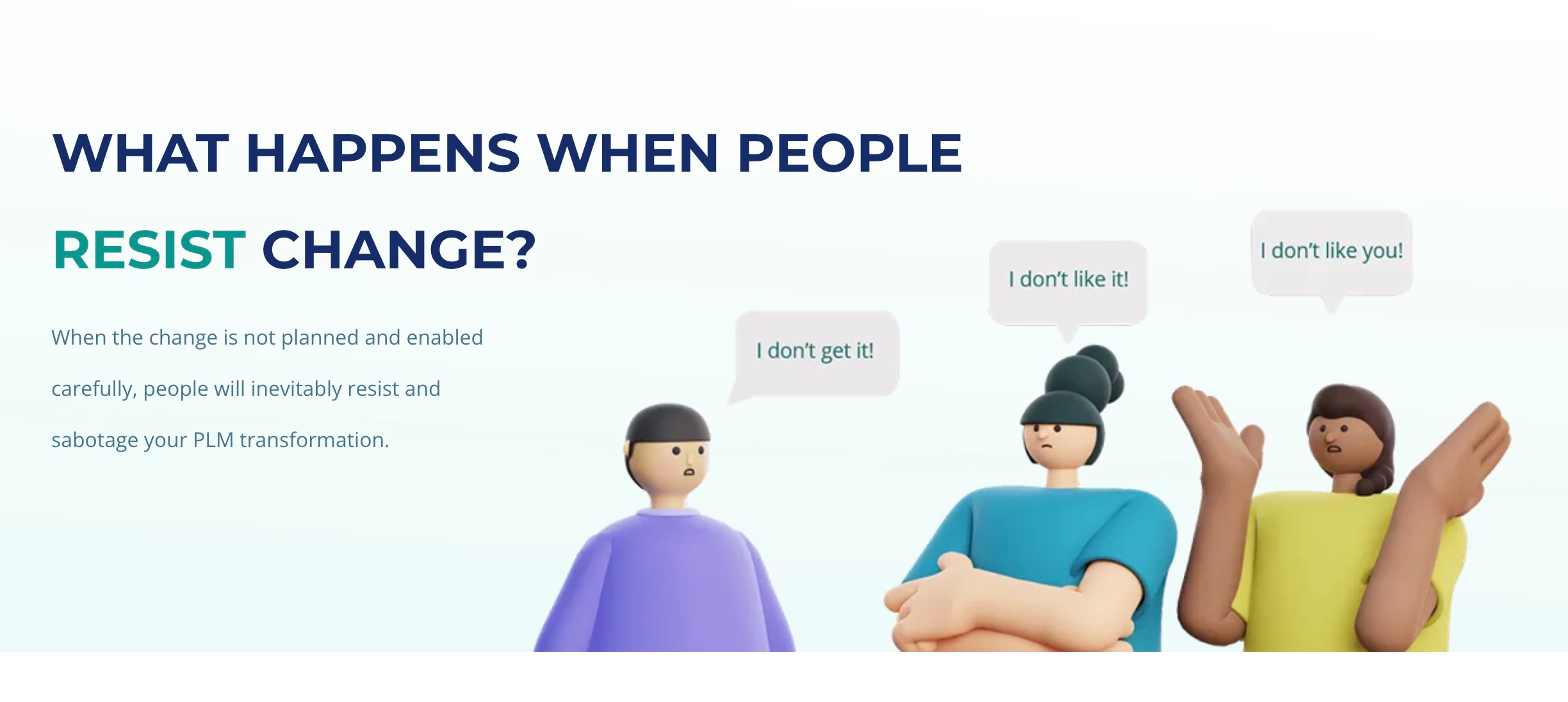 I found the description above from Share PLM, describing the best what is happening in an organization when it is trying to bring everyone on the same page. It is a complex dynamic of relationships between people and organizations. I don't get it, I don't like it, I don't like you. From my experience, it is happening very often and companies need to figure out how to make it happen.
Agile Implementation and PLM Playbook
The question is how to make implementation successful is how to find the right path toward organization changes is complex and cannot be solved as a single implementation event. How to "eat an elephant". The idea is to make it by small steps:
Desmond Tutu once wisely said that "there is only one way to eat an elephant: a bite at a time." What he meant by this is that everything in life that seems daunting, overwhelming, and even impossible can be accomplished gradually by taking on just a little at a time.
Here are some of the ideas I used over time in many PLM implementations before and during my OpenBOM time. First, always start the project with the assessment of the situation, business goals, and team capabilities. They are important because you will need to get people involved. You need to make a realistic assessment if the team (organization or company) is ready to go through the changes strategically. In other words, the pain is recognized and accepted.
One Bite at a Time: When you feel overwhelmed, separating tasks into small bite size (or value size) help you to get to the point where you can plan a step ahead, achieve it, and measure the results.
Once the results are achieved, you need to celebrate the wins and acknowledge what is achieved, including value for the organization and describe the progress to everyone.
You need to surround yourself with a helper that can go with you and make changes. Think about friends, co-workers, or anyone who might have the same interest as you in the organizational transformation.
All these things are important, but there is one element, which is essential and must be placed in the middle – the agile implementation process. The process that makes the implementation possible is a well-organized set of actions and definitions that can help you to follow the right steps.
In one of my previous blogs, I talked about the agile unstoppable PLM implementation methodology. The core element of the implementation is an agile process that can be repeated many time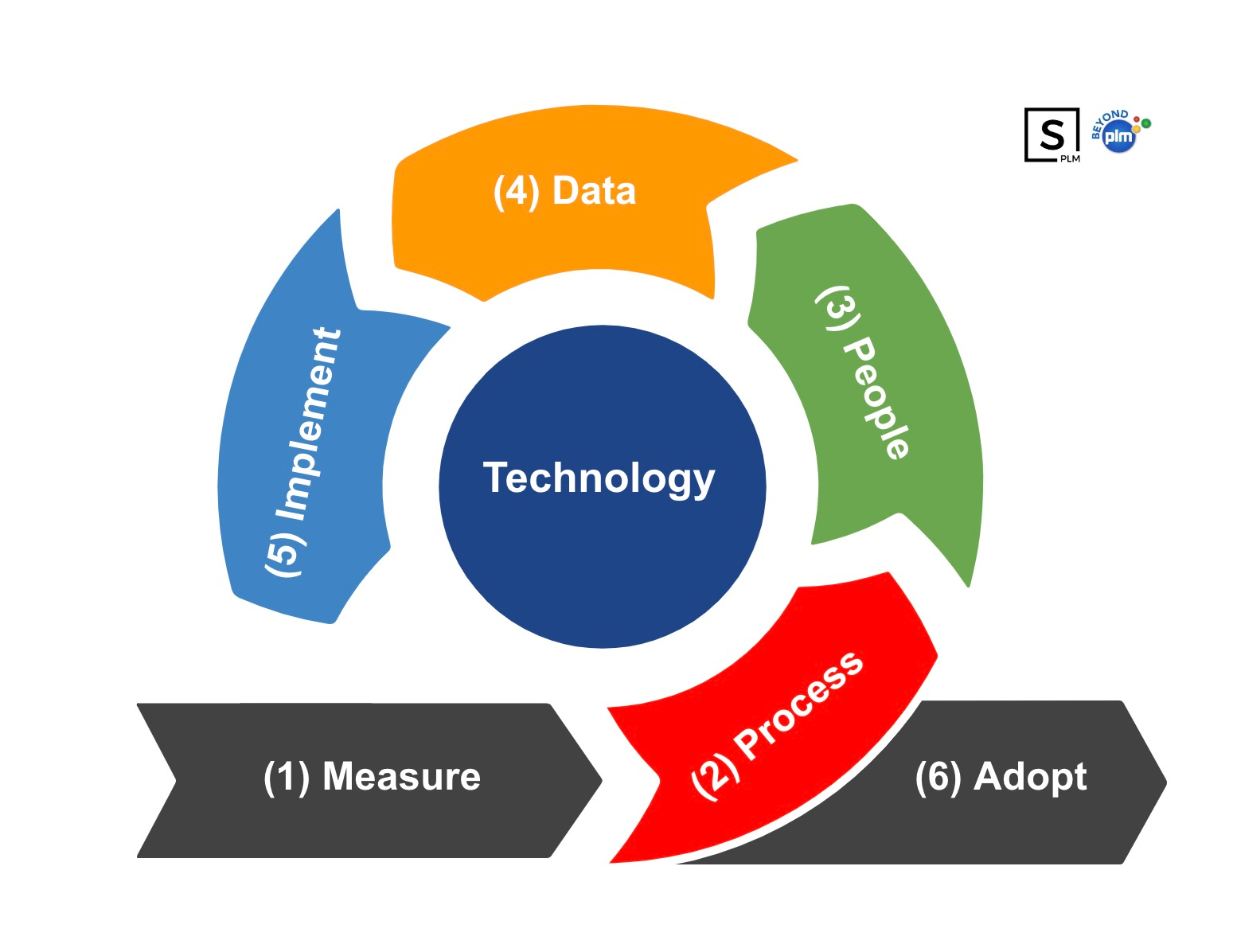 What is important is the sequence of the steps, making measurements, and focusing on adoption. Each step of the implementation is important by itself, but also helps you to create a strategic plan that fits YOUR organization, knowing all aspects of the existing status of PLM development and organizational goals.
What is my conclusion?
When you have a big task, you need to separate it into small steps. You need first to do what is necessary, then do what is possible and suddenly you will be approaching the results that were initially thought as impossible. It is absolutely important to plan PLM implementation as an agile process focusing on every step of organizational, technological, and business processes. Just my thoughts…
Best, Oleg
Disclaimer: I'm co-founder and CEO of OpenBOM developing a digital thread platform including PDM/PLM and ERP capabilities that manages product data and connects manufacturers, construction companies, and their supply chain networks. My opinion can be unintentionally biased.