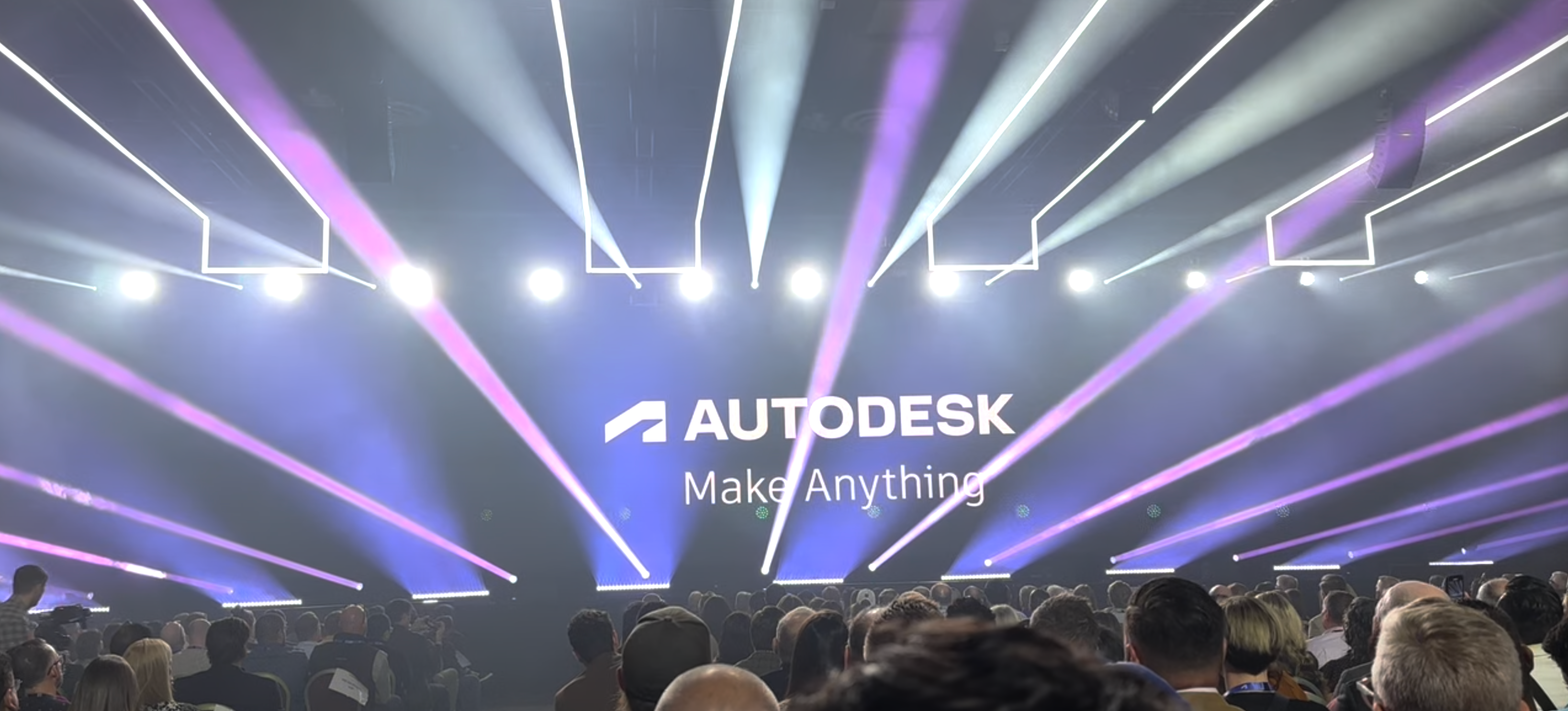 Earlier this week I attended Autodesk University 2023. The event back to its regular location Las Vegas Venetian (Sands Expo), which made everyone happy after the previous year New Orleans location.
Let's be honest, you cannot beat this Las Vegas Venetian interior view :).
I'm collecting my notes and thoughts after the event. In my blog today, I want to share my impression from the first day keynote.
But let's start from sound and video impression. I know, Youtube video can make everything buzzing around you, but use the power of imagination. I can only say from myself – it was LOUD.
The first day keynote is always an opportunity to capture the main theme, trends and where Autodesk strategy goes. It covers Autodesk's vision for the industry, highlighting four key themes that promise to revolutionize the way we work and create. Let's cover them.
AI is a Big Thing:
The first major takeaway from the AU 2023 keynote was the prominent role of artificial intelligence (AI) in the future of design and manufacturing. It was big Autodesk news – Autodesk AI. And according to Autodesk, the work on new AI new technologies started years ago. Autodesk made it clear that AI is not just a buzzword but an integral part of their strategy to empower designers and engineers. With AI, Autodesk aims to streamline and enhance various aspects of the design process, from concept development to production.
Andrew Anagnost, CEO and President made it clear – AI is a future opportunity behind everything that Autodesk is doing.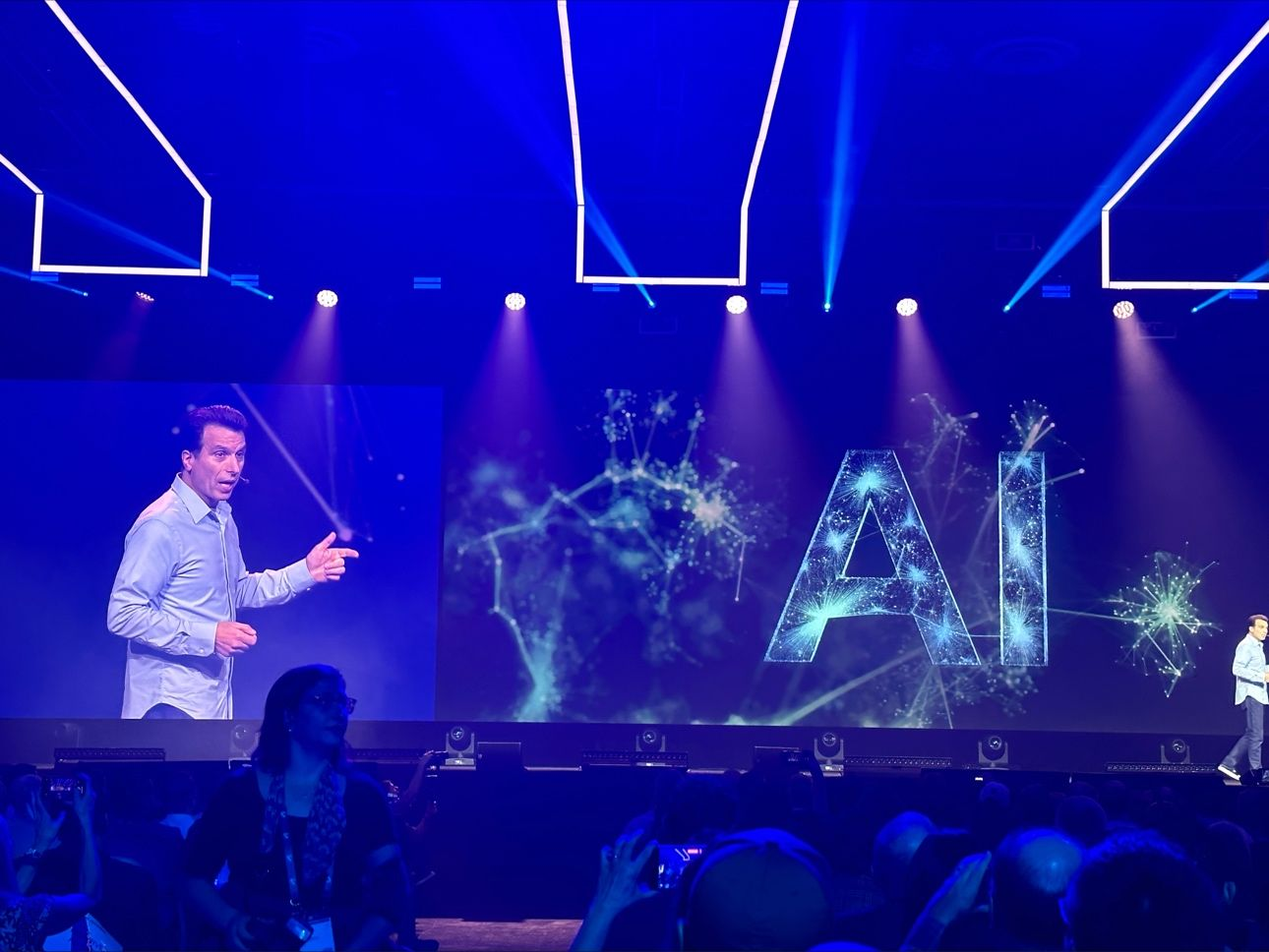 The integration of AI promises to automate repetitive tasks, optimize designs for efficiency, and assist designers in making informed decisions. This means faster design iterations, reduced errors, and improved product quality. Autodesk is betting big on AI, and it's clear that the technology will play a pivotal role in the industry's evolution.
The approach Autodesk is taking is to introduce AI in existing products – augmenting and extending. Here is an example by Amy Banszel of introducing AI in Autodesk Forma.
Data and Context:
Digital transformation is a big deal and therefore Another key theme at AU 2023 was the importance of data and its contextual availability. Real time data – this is what people are looking for in both architecture, engineering and construction as well as manufacturing software. It makes engineering data available and this is a place where digital thread begins. Autodesk emphasized that having the right data at the right time and in the right context is essential for enhancing the design and manufacturing experience. This means breaking away from traditional file-centric workflows and transitioning to a data-centric approach.
Jeff Kinder, EVP Design and Manufacturing highlighted that data is a foundation of new approach of building CAD, CAM, CAE software at Autodesk.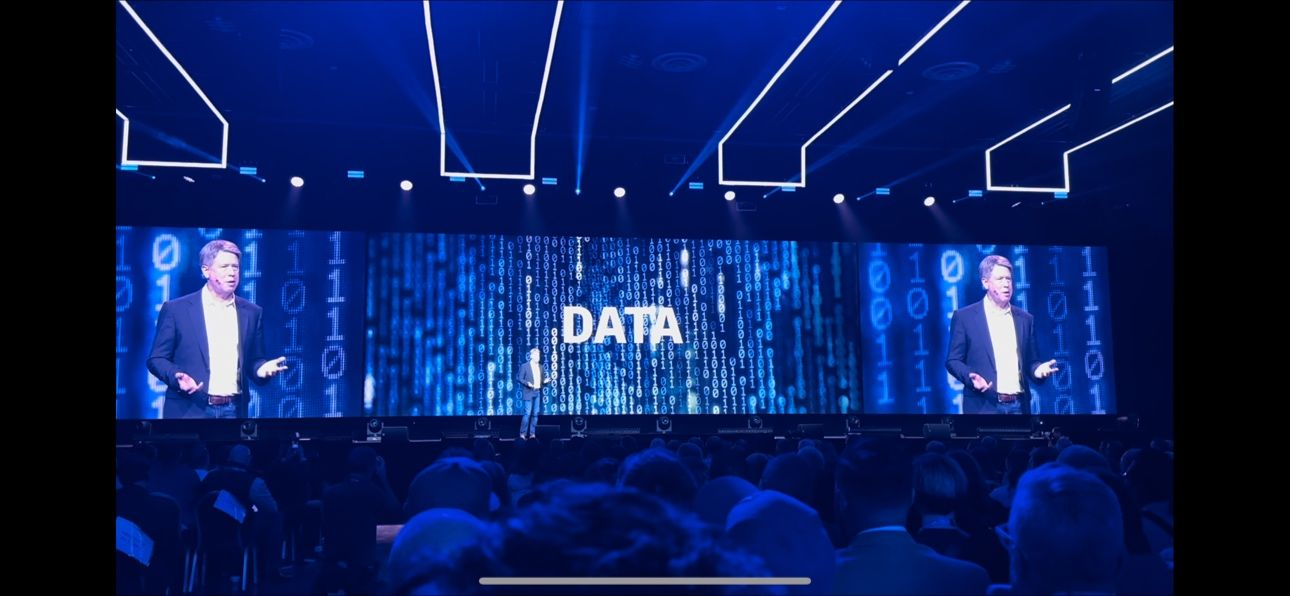 The idea is to create a seamless ecosystem where data flows seamlessly across various phases of the product lifecycle, enabling better collaboration and decision-making. By harnessing the power of data and context, Autodesk aims to empower users to make more informed choices, ultimately leading to better products and processes.
From Files to Data:
For years Autodesk software was relying on files to store data. And now it is going to change. Digital transformation is dictating its own rules for Autodesk software. Another significant message at AU 2023 was Autodesk's commitment to transitioning from files to data. Although, the strategy is not new, but it looks like taking a real shape with the advancements of Autodesk Platform Services (APS). I will talk about it separately.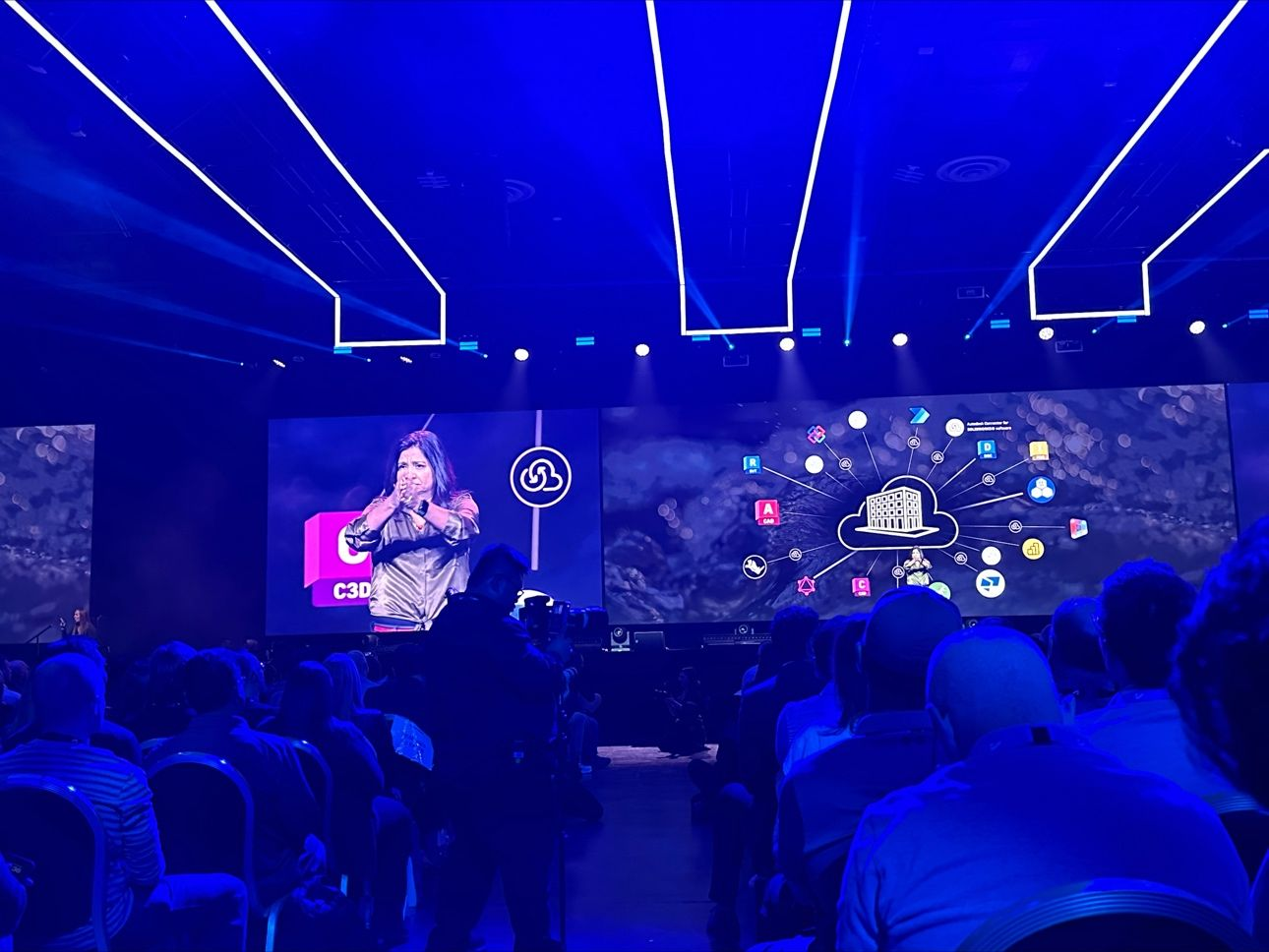 Raji Arasu, Autodesk CTO highlighted the importance of switching from proprietary file formats to granular data. This shift represents a fundamental change in how design and manufacturing professionals work. Instead of dealing with static files that may become outdated, users will work with dynamic, connected data. This transition holds the promise of real-time collaboration, easy access to the latest information, and improved version control. It will revolutionize how teams collaborate, making it easier to share, access, and manipulate data throughout the product development lifecycle. The move from files to data is seen as the next milestone in Autodesk's journey to reshape the industry.
Integration is Key:
Lastly, Autodesk emphasized the critical importance of integration between multiple systems. The design and manufacturing process often involve various tools, software, and platforms. Seamless integration between these systems can eliminate bottlenecks, reduce errors, and streamline workflows.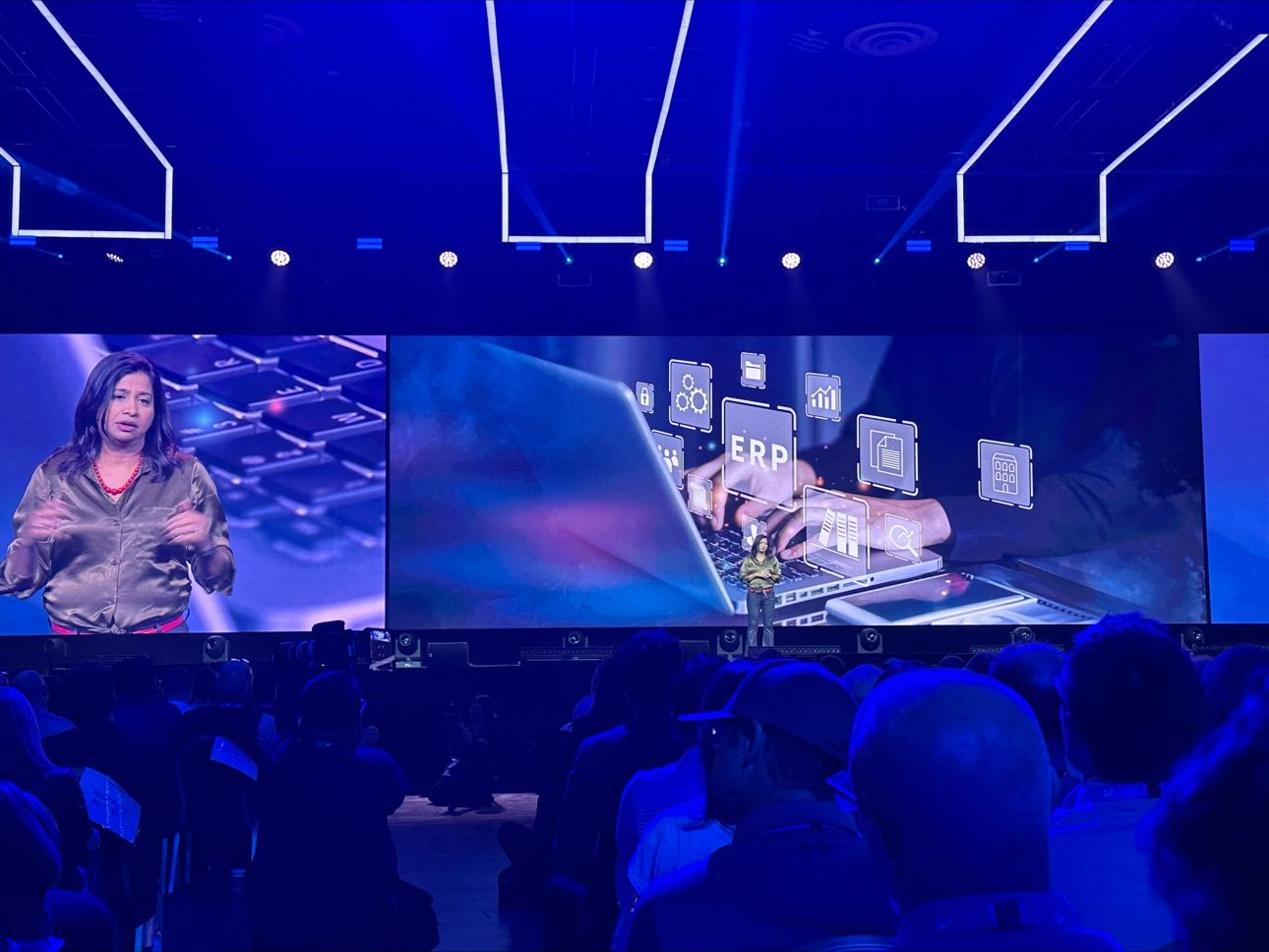 Autodesk's vision includes creating an interconnected ecosystem where different tools and software solutions work together seamlessly. This will allow designers and engineers to harness the full potential of their software stack and improve efficiency across the board.
What is my conclusion?
Switching from Files to Data, Bringing AI to Design to Make Faster. Autodesk University 2023 offered a glimpse into the future of design and manufacturing and demonstrated where Autodesk is going. The four key themes discussed in the keynote address – the importance of AI, data and context, transitioning from files to data, and integration between systems – all point toward a future where design and manufacturing are faster, more efficient, and more collaborative.
Autodesk's vision for the industry is ambitious and exciting. By harnessing the power of AI, transitioning to a data-centric approach, and fostering integration, Autodesk aims to empower designers and engineers to innovate and create more efficiently. While the keynote address painted a promising picture of the future, the true test lies in the execution of these ideas.
At the same time, I have to say that Autodesk announcements were anticipated and highlighted a big picture of various development that is on-going at Autodesk. The delivery is always a problem and moving into the details, transforming existing Autodesk Software is the next challenge. How Autodesk will change product lifecycle management, construction software and entertainment software using the same platform into a future reality? That's a big question. Just my thoughts…
In my next few blogs, I will share more about what I learned during other sessions at AU and focus at Design and Manufacturing sessions, Autodesk Platform Services (APS) and Product Lifecycle Management (PLM) summit.
Stay tuned…
Best, Oleg
Disclaimer: I'm co-founder and CEO of OpenBOM developing a digital-thread platform with cloud-native PDM & PLM capabilities to manage product data lifecycle and connect manufacturers, construction companies, and their supply chain networks. My opinion can be unintentionally biased.