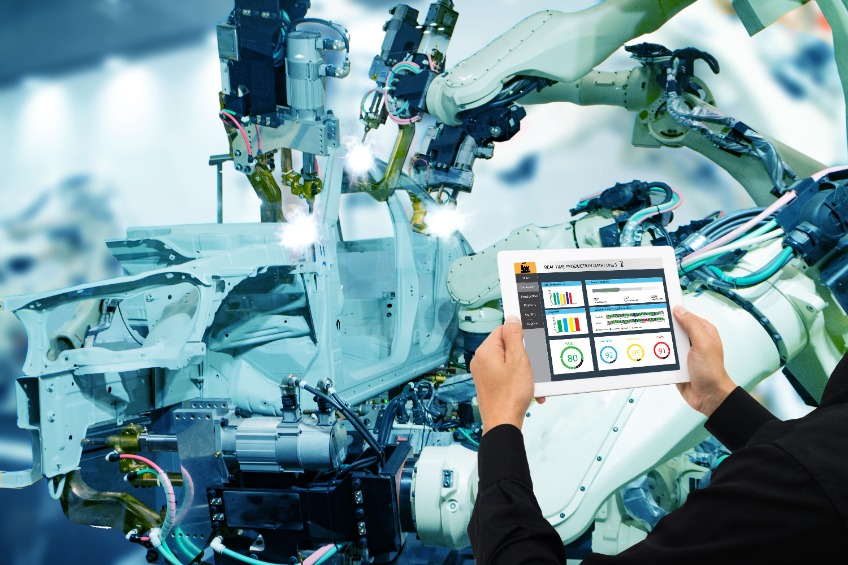 Part numbers are hard. Period. There is no topic in engineering and manufacturing organizations that triggers more debates and potentially bigger disagreement than the discussion about what and how to organize part numbers. I wrote many articles where I shared my thoughts about Part Numbers and their use. Here are a few links to my favorite articles: Why do engineers like to geek about Part Numbers? 4 Reasons Why Companies Are Still Using Intelligent Part Numbers? The main reasons engineers like intelligent part numbers. It is not what you think.
Quick Release article PLM Essentials: Part Numbering by Adam Tonks took me back to my thoughts about Part Numbers challenges and debates around what should be the right way to manage them.
What is a big deal about Part Number?
Regardless if you use any data management systems such as Product data management (PDM), product lifecycle management (PLM), enterprise resource planning (ERP), or managing product-related data and manufacturing process using spreadsheets, the question of Part Number is the first thing you need to solve. Because everything is errr… starts from some identification mechanism. You can use a system to manage engineering data, and manual or automated processes, you start with computer-aided design (CAD) and some ways to identify parts and assemblies. A material, component, or assembly requires some naming and this is where Part Numbers start.
Most manufacturing companies today are still lacking holistic thinking about data management technologies, software, and technologies that can help manufacturers to manage processes needed to turn ideas into design and then take it downstream to manufacturing, production, and support. Therefore, the absence of strategic planning about business systems turned companies to think about Part Numbers as a separate discipline that should exist independently of any product data management and manufacturing technology to provide an up to date information to everyone in the organization. In fact, this is where the digital thread begins and this is why product development, project managers, and everyone else is trying to form a strategy for how to manage real-time data about products.
Part Number Polls
I started a survey to check how different groups of my readers are managing Part Numbers in product data management, product lifecycle management, and, in general, product data. Check these two polls I put on LinkedIn. One of them is for my Solidworks colleagues, which is a great way to understand the thoughts of CAD oriented community. Check it here live (note you should be a member of the SOLIDWORKS group to see the results live.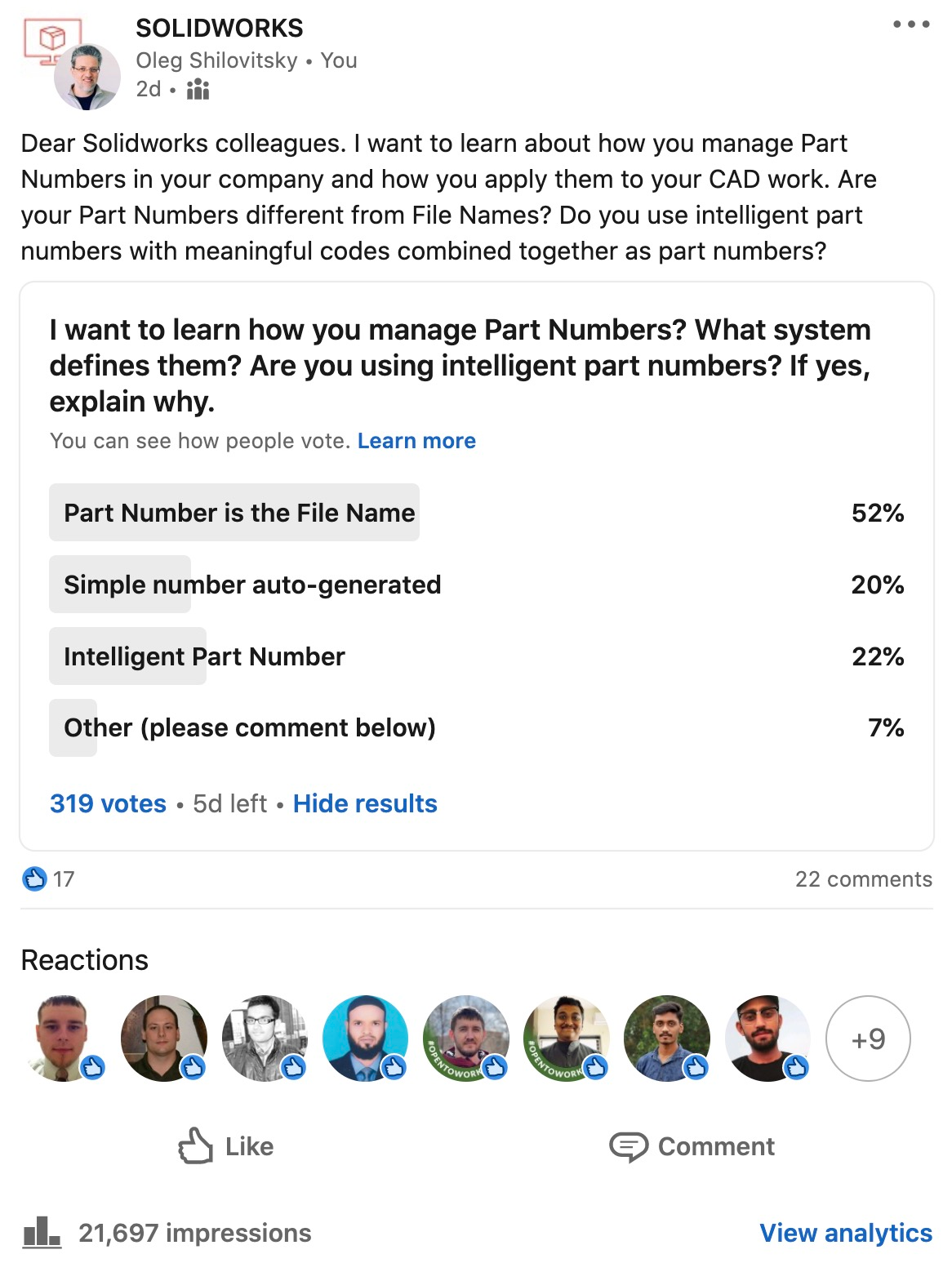 The second one is in a more diverse group of my readers that I think is more balanced and thinks about product data in a more holistic way (not only as CAD documents). Check it here live.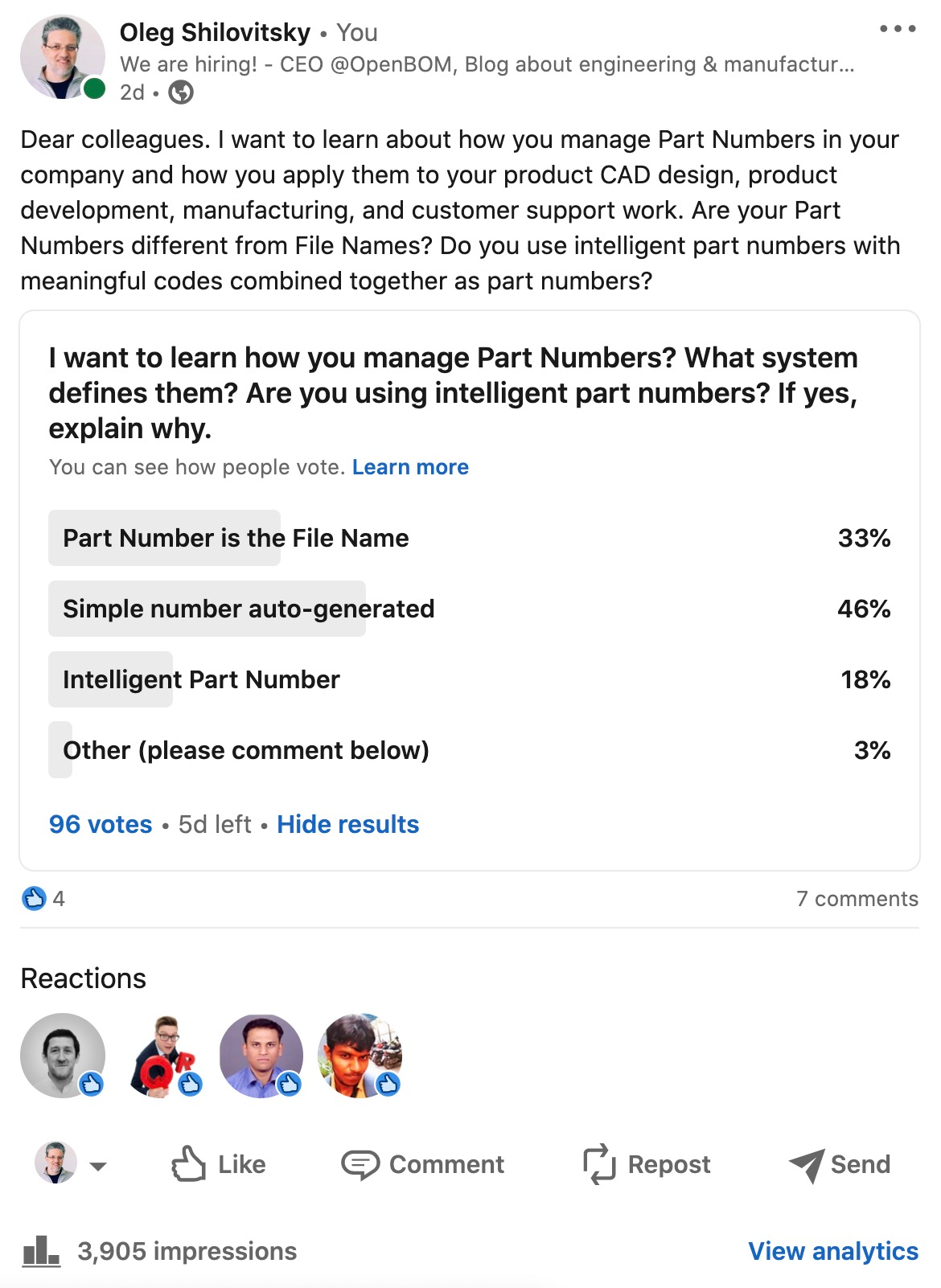 Although the voting process is not finished yet you can see some basic differences and ideas of people voting. I will have to follow up with the group about file names in product data management, but it will be coming in the future poll. Stay tuned.
Part Number and Digital Thread
Have you heard about digital thread recently? The digital thread is mainly used to organize and orchestrate data connections across the lifecycle of a product, from the design to engineering, manufacturing, operation, and service. It is quickly becoming one of the main goals of product lifecycle management and it is substantially impacting all product data management disciplines. A digital thread is an important discipline for the future of digital transformation. The digital thread is expanding and it will impact many aspects of product development and the way manufacturing companies are organizing their processes and data.
Here is the thing, the reason why manufacturing companies are debating how to manage data and systems and how to include Part Numbers in the way materials, components, and assemblies are used in the overall manufacturing processes and connecting data and systems across the lifecycle. Product Number is the most fundamental digital thread in the industry and it helps manufacturing companies save time to identify data in a variety of processes.
With the lack of fundamental trust in holistic data management across the lifecycle cycle, manufacturing companies are bringing an intelligent part number to play that role. This is a future challenge of digital thread and digital transformation process.
What is my conclusion?
Intelligent Part Numbering schema is a digital thread for poor companies, which exists for a very long time, and started even more manufacturing companies started to think about how to manage product development and connect processes with meaningful data. The future of product development will be looking at modern data management systems helping to optimize manufacturing, processes, and entire companies using data beyond depending on intelligent part numbering schemas. Just my thoughts…
Best, Oleg
Disclaimer: I'm co-founder and CEO of OpenBOM developing a digital cloud-native PDM & PLM platform that manages product data and connects manufacturers, construction companies, and their supply chain networks. My opinion can be unintentionally biased.