PLM Conferences are coming back in 2023 and I started to put them back on my calendar. You can watch slides online, but there is no replacement to meet people from the industry – thought leaders, analysts, industry experts, vendors, and industrial companies. Earlier this week, I attended CIMdata North American PLM Market & Industry Forum in Ann Arbor. Check the agenda online. The event is exclusively organized for PLM providers where CIMdata experts share their industry perspective, analysis of PLM business for the last year, and outline main trends and opportunities in the industry. If you're in PLM business, developing software, services, or consulting, the CIMdata forum is a great place to learn and connect with your colleagues.
2023 Forum – Digital Thread and Business Transformation
CIMdata's 2023 PLM Market & Industry Forum series theme is "The Digital Thread: Powering Business Transformation." The goal of the forum was to frame a digital threads and discuss the issues faced by industrial users.
The three topics from the agenda are related to the Digital Thread, which is a concept that refers to the seamless flow of information throughout the product lifecycle. The first session by James Roche, Director, of Aerospace & Defense Practice, CIMdata provided an introduction to the Digital Thread concept and a summary of the research conducted by AD PAG that served as the foundation for the current research effort. The second session also by James Roche summarized findings from an online survey and interviews with leading global A&D companies about their perspective on the Digital Thread. This session provided guidance to the PLM Economy on how to better support this important concept. The third session by Stan Przybylinski, Vice President, CIMdata focused on the challenges faced by solution and service providers in meeting the new requirement of supporting the Digital Thread at their industrial clients.
The following slide gives you a perspective on the perspective of digital thread and digital web of product development and manufacturing data.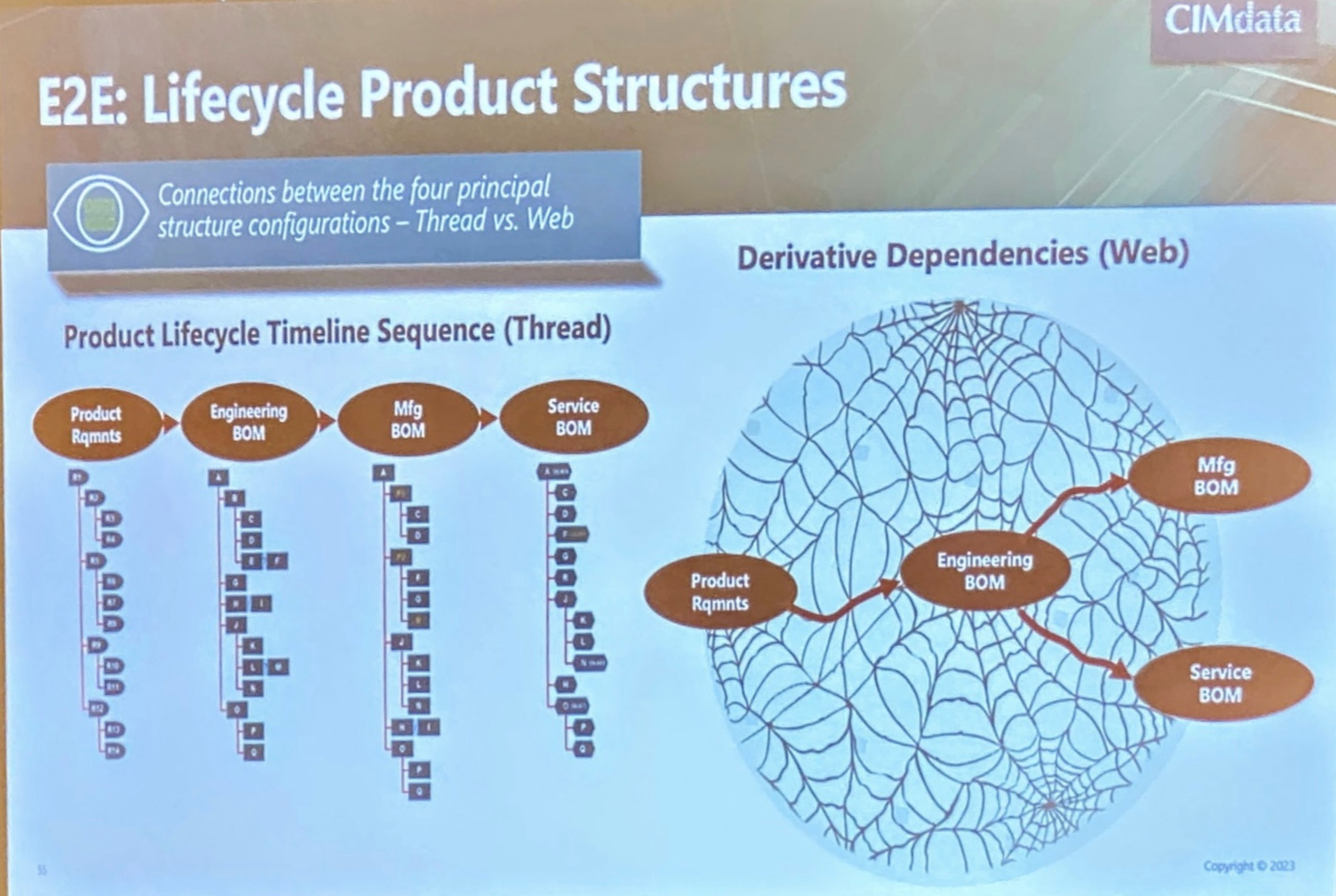 I will touch on it in my following articles. In my first article today about CIMdata Market and Industry forum, I want to share 5 things I captured about the state of PLM. These are important things for every PLM professional that can give you a sense of where the PLM industry is and give you some food for thoughts about where the PLM industry is going.
5 Things About The State of PLM In 2023
Here are things that caught my attention and can give you some ideas about burning challenges and the remaining status quo of the PLM industry. A full report and details of the PLM survey can be obtained from CIMdata. It is a comprehensive piece of research- I highly recommend it to everyone.
Most PLM Implementations Are Still Traditional
Things are changing very slowly in the PLM business. Therefore, most of PLM implementations are still focusing on a very traditional scope of PLM implementations – – engineering data management, release and change management, and configuration management.
PLM is still expensive to buy
The cost of PLM is still very high, which indicates that most implementations are targeting very large companies. While it doesn't mean a bad thing, keep in mind that everyone in the PLM industry who speaks about providing existing "mindshare PLM" leading products for SMBs is just a dreamer.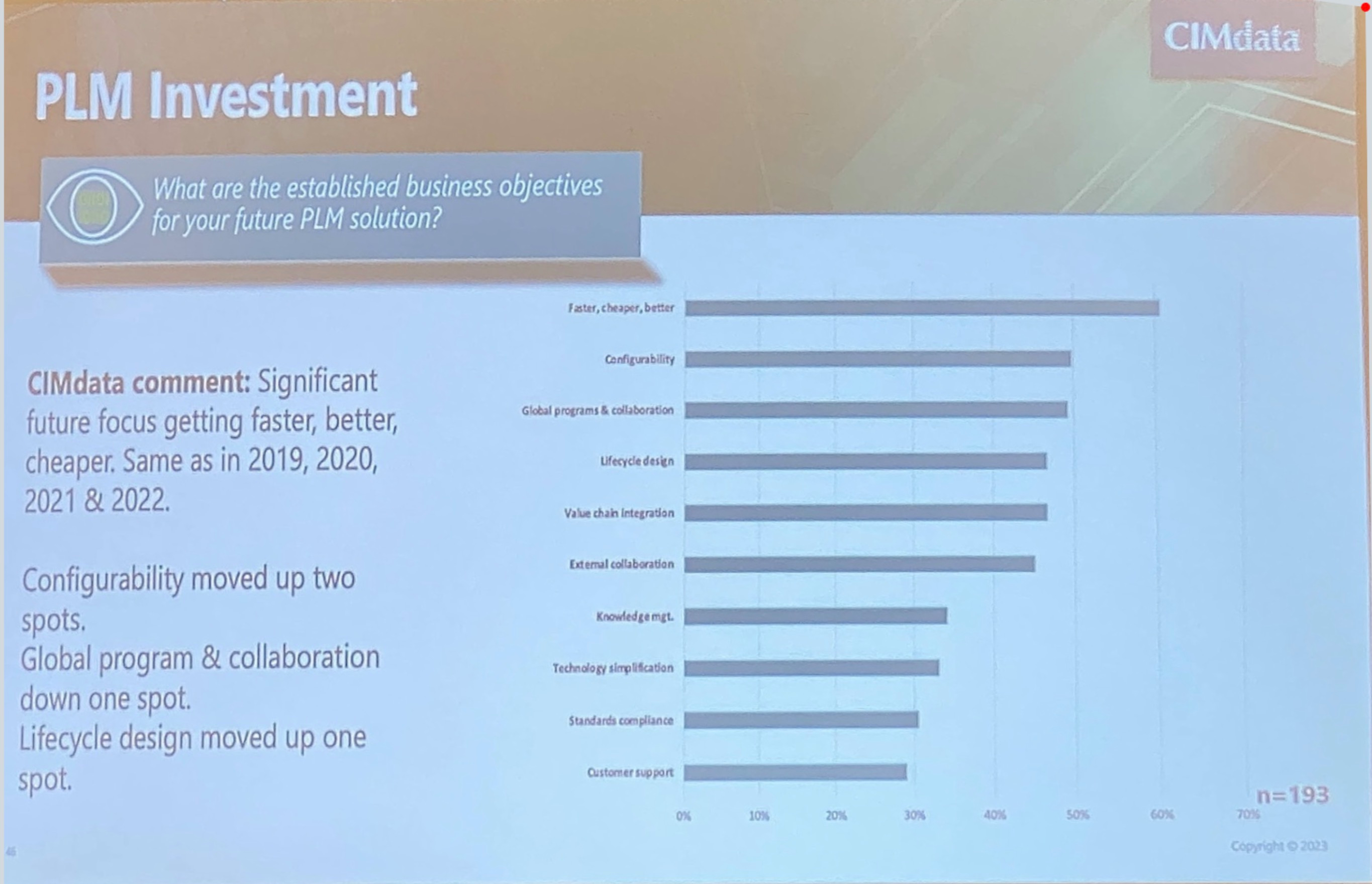 Top Future Solution Demand – Faster, Better, Cheaper
The big picture about PLM investment focus remains the same. However, it is important to see that the "faster, better, cheaper" mantra is getting on the top of the priority list. It means that industrial companies are challenged by the speed and, at the same time, PLM is annoyingly slow for many industrial companies' processes as of it today.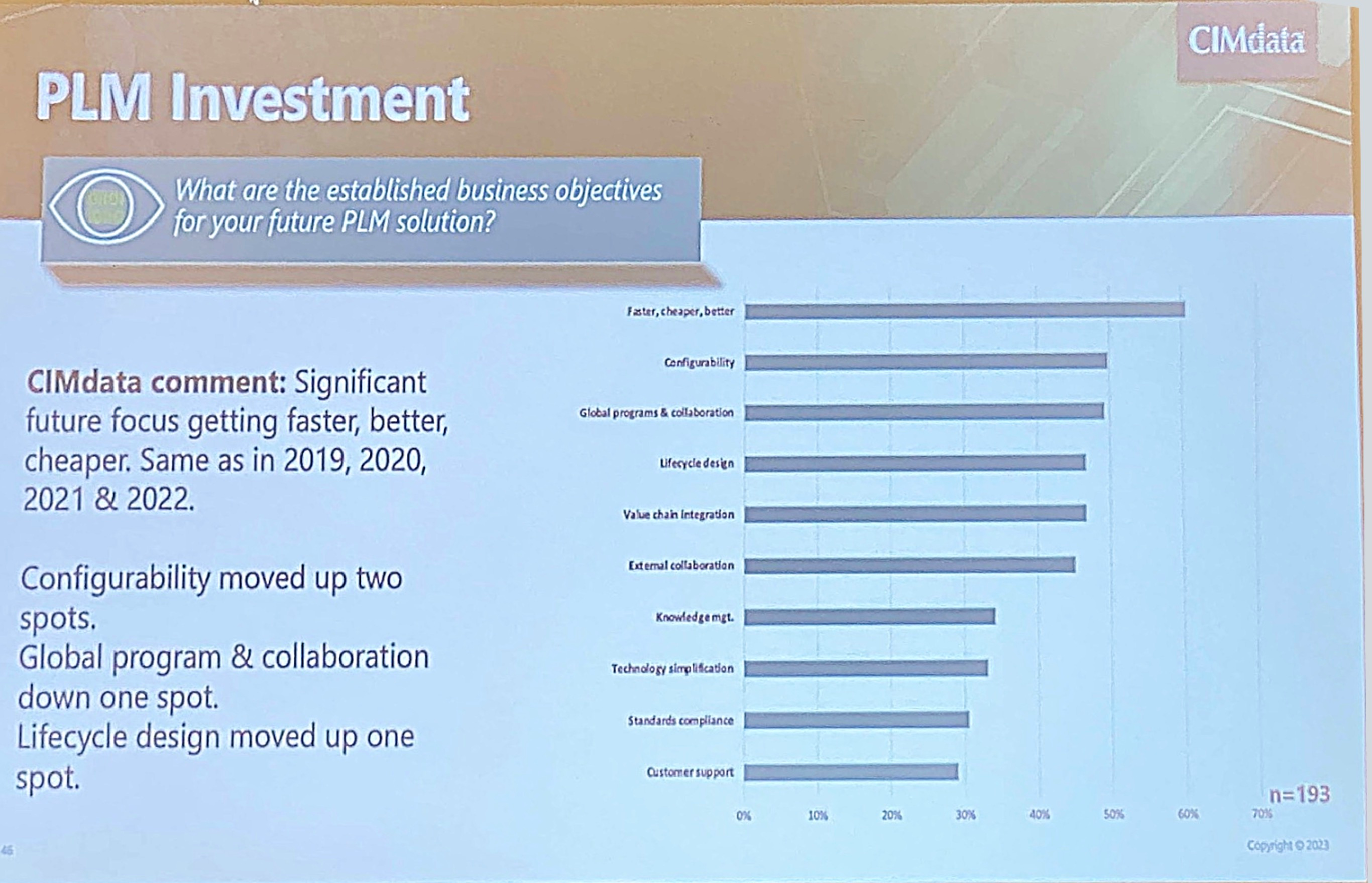 Top challenge – priority conflict
It is very interesting to see what moves to the #1 place from the list of challenges for a successful PLM implementation.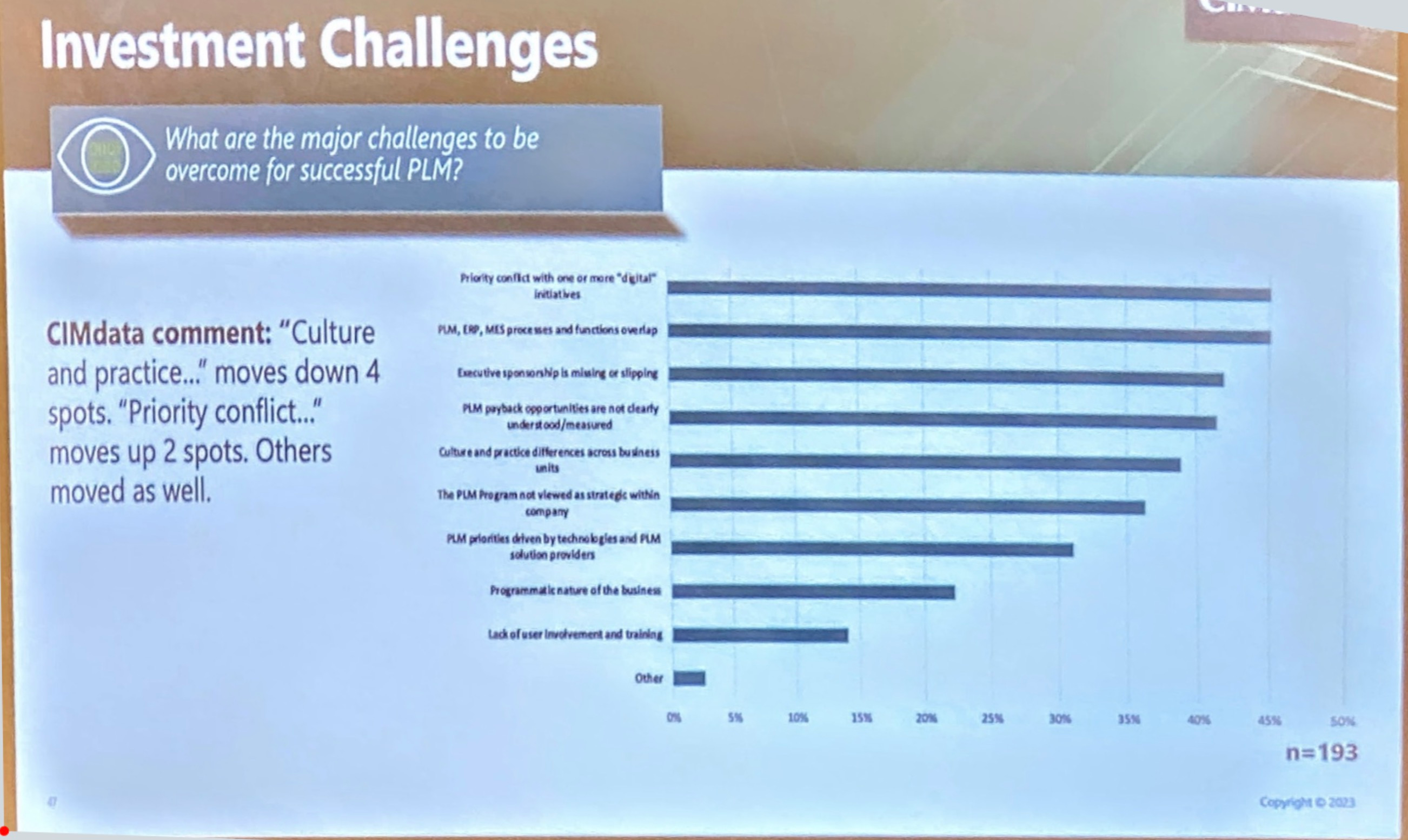 Value Disconnect
The biggest challenge for PLM is "value disconnect". It is becoming extremely important as companies are moving toward SaaS and service businesses. In the past selling, a PLM deal for $$$M was almost a guarantee that the company will continue to invest in this product implementation and use (after such a big upfront investment). When it comes to SaaS products, companies need to earn renewals. While I believe most enterprise PLM deals are sold with multi-year enterprise contractors, to have a low %% of customers that cannot live without PLM indicates some problems.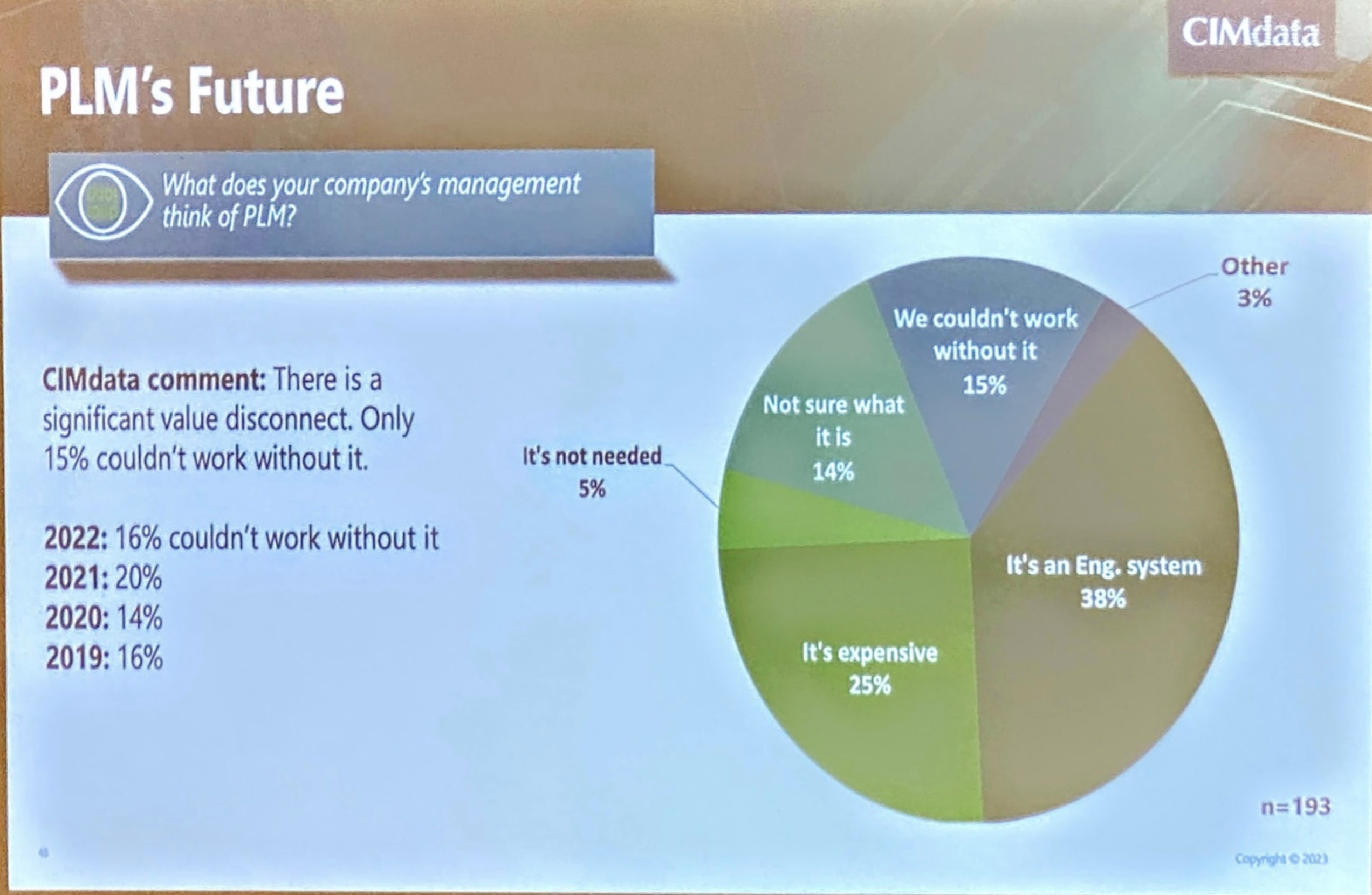 What is my conclusion?
CIMdata provides an interesting perspective on the development of product lifecycle management (PLM) industrial companies with other important technologies and products. Understanding key industry trends is important for vendor competitive advantage programs and innovation in different industries. Product lifecycle management remains a very competitive place with a huge segment of unrealized potential for many companies that are looking at how to succeed in the industry by improving processes, streamlining product and process management, and accessing real-time data. The future for modern PLM platforms is open and this is where the digital thread begins. In my following articles reviewing the CIMdata forum, I will talk about digital threads and other opportunities and challenges I learned at CIMdata. It is a time to come to conferences, meet your industry colleagues and share information.
Just my thoughts…
Best, Oleg
Disclaimer: I'm co-founder and CEO of OpenBOM developing a digital-thread platform with cloud-native PDM & PLM capabilities to manage product data lifecycle and connect manufacturers, construction companies, and their supply chain networks. My opinion can be unintentionally biased.