I'm continuing to digest LiveWorx 2023 from a few weeks ago. Today I want to talk about PTC migration to SaaS Future and products that were marked with a "+" sign – Creo+, Windchill+, and other products. You can check my earlier articles – How PTC Plans to SaaSify their products until 2025 and PTC Atlas and SaaSification Trajectories 2022.
In the world of product lifecycle management, PTC was always a prominent believer in the core PLM vision, which starts from its Windchill products. Started as a Parametric Technology Corp developing innovative parametric feature-based modelers for Pro/ENGINEER, for the last 25 years, PTC expanded into Power to Create (PTC) vision led by Jim Heppelmann.
The topic of "+" products and discussion about SaaS was broad at LiveWorx. SaaS is a big strategy for PTC product lifecycle management and overall vision. The keynote from Jim Heppelmann and multiple sessions covered the topic. You can be 100% confident PTC takes SaaS very seriously. Their investment in SaaS for the last few years ($3B dollars in development and M&A) speaks for itself.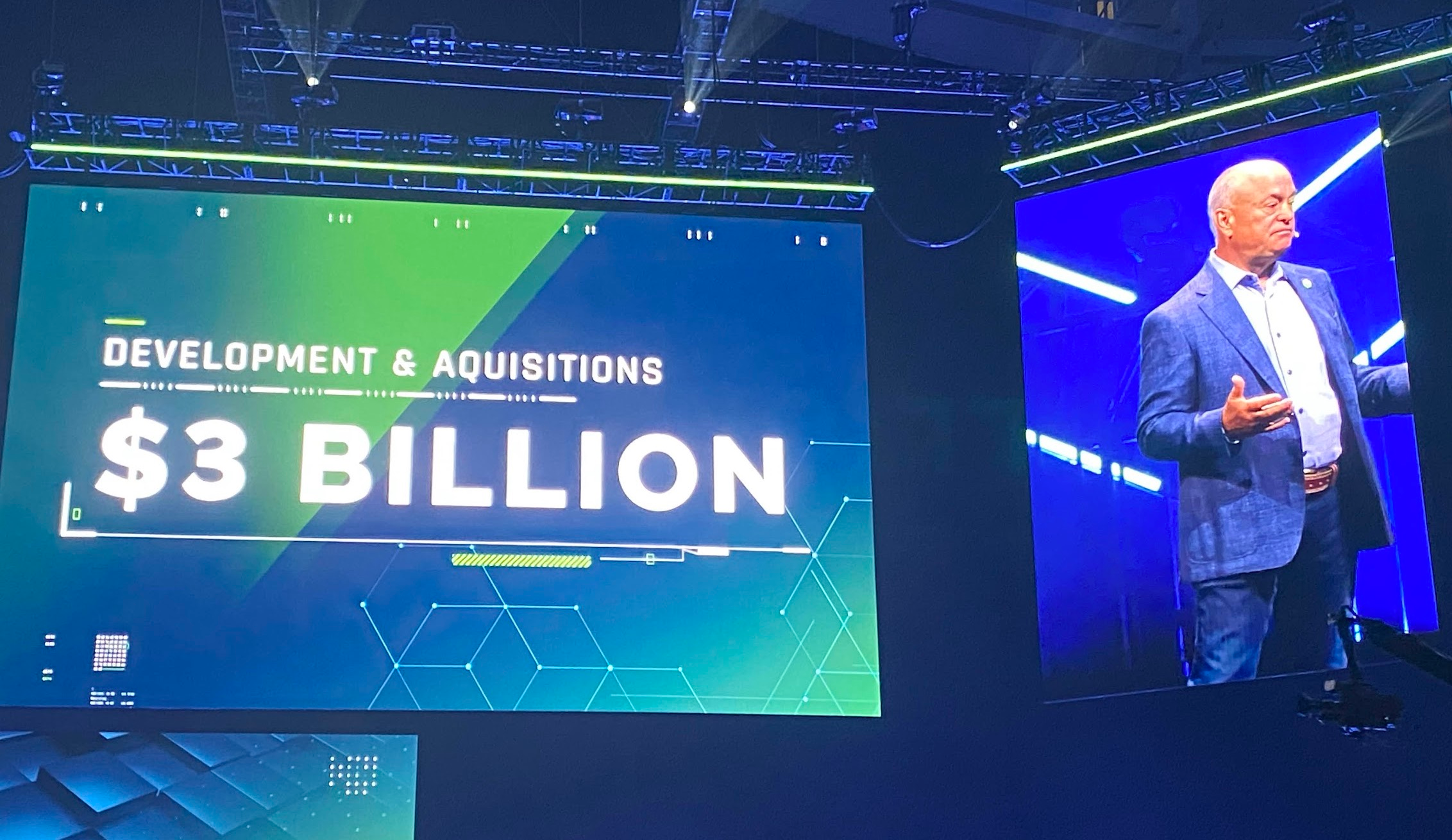 Acquiring Onshape, turning the platform into Atlas, acquiring Arena, ServiceMax, and other products – this is just a top list of what PTC Product Lifecycle Management and Product data management does in SaaS. However, the devil is in the details. Strategy is an interesting thing, but it is important to see how strategy turns into customer benefits.
PTC Atlas, SaaS Roadmap, and + Strategy
The core strategy of PTC is to turn all products into a SaaS portfolio. The marketing slide below gives you a vision of how it is going to happen.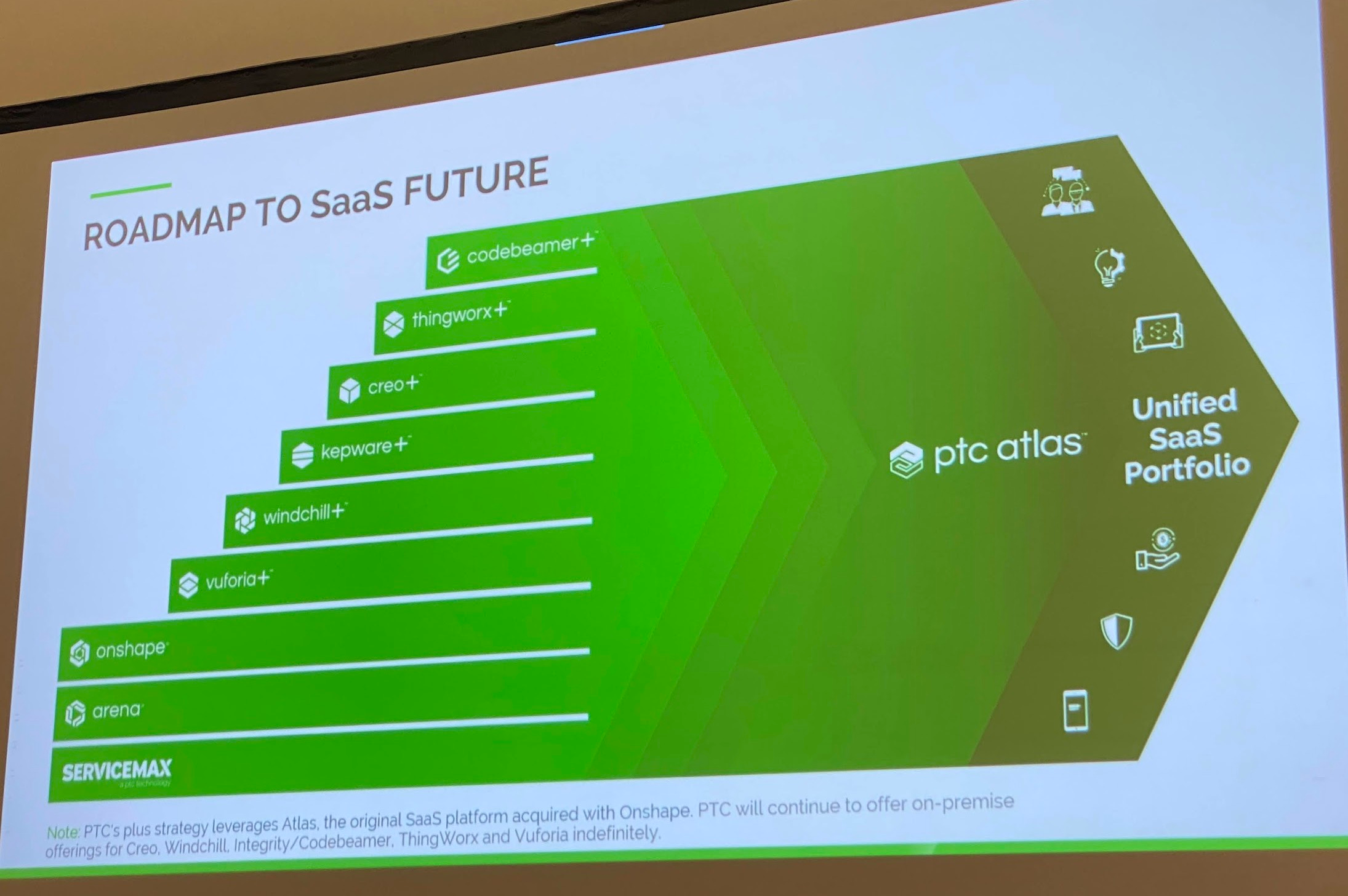 The core of PTC Atlas is the Onshape platform acquired back in 2019. While Onshape remains a SaaS CAD product in the PTC portfolio, the Onshape platform provided a lot of useful services and capabilities that can be used by PTC to build a portfolio and enrich existing products. The following high-level tech slide I captured can give you an idea.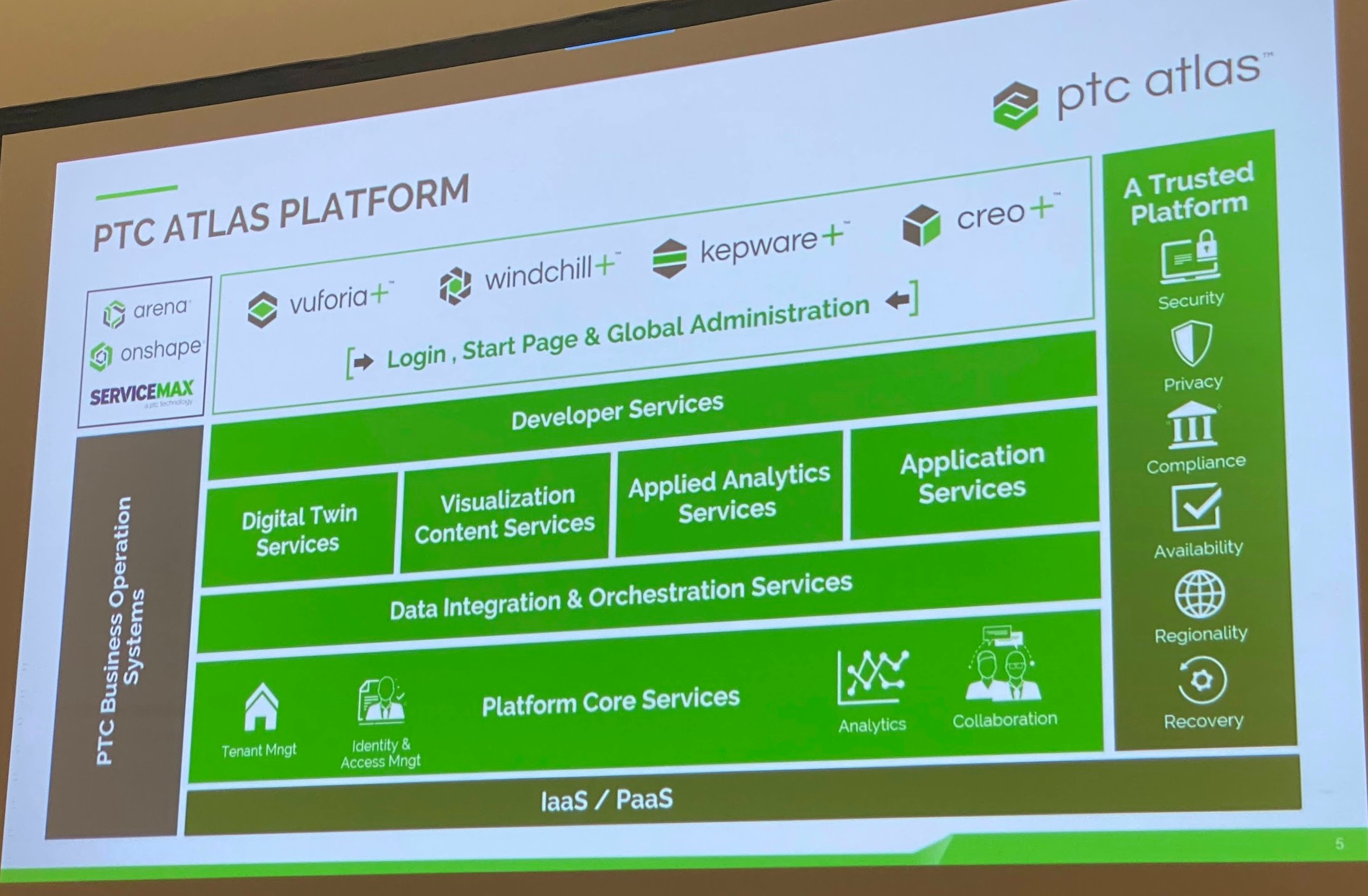 So, what is the strategy of PTC for so-called "+" products? You can see Arena, Onshape, and ServiceMax are not changing (at least names). At the same time, other existing PTC products such as Vuforia+, Windchill+, Kepware+, and Creo+ all added a + sign. According to PTC, the "+" sign means that all functions of the existing product remain, but it adds (+) new SaaS (or cloud) capabilities added byAtlas platform. You can clearly see it in the footnote of the strategy slide saying that all existing products remain and PTC will continue to offer them on-prem as it was before.
That's probably the quickest summary of PTC SaaS strategy:
Grow PTC Atlas platform
Transform and enrich existing products with new (+) SaaS capabilities
Integrate all products into PTC SaaS product portfolio of service.
Windchill+ and Creo+
General PTC SaaS strategy was clear, but the following two products are special because they represent the core of PTC business as of today. PTC divides the business into two groups – Digital Thread and Velocity portfolios. Windchill and Creo is a foundation of the PTC portfolio and, therefore, it is very interesting to see the trajectory of these two products. in the context of SaaS.
Here is the Windchill+ vision slide. Shows you the priority of Windchill+ vision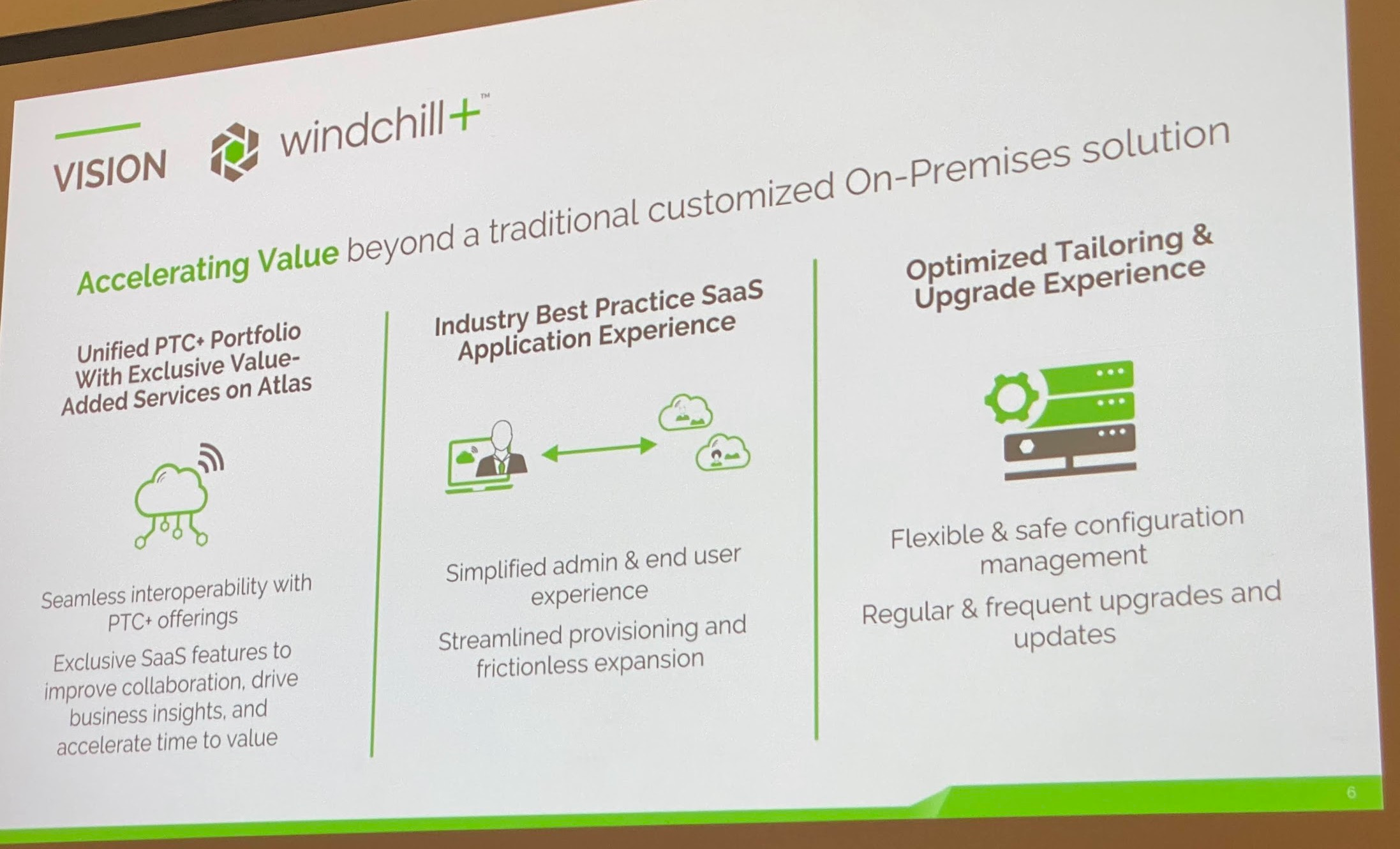 Combined with the Windchill+ roadmap, it gives you a perspective of what to expect from Windchill+.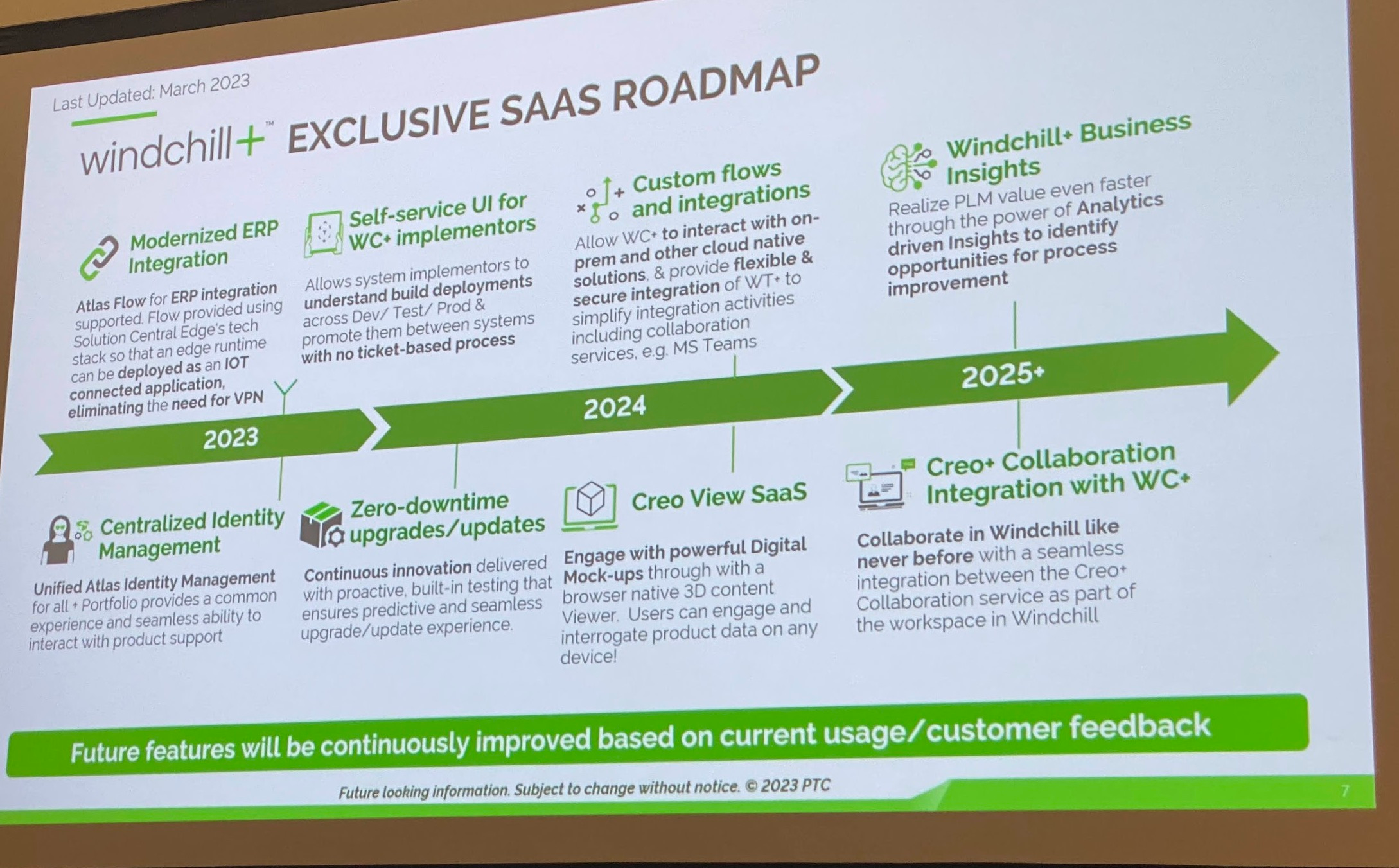 In my view, there are two interesting points on the slide above – upgrades and Atlas Flow. First, WC+ suppose to solve the problem of upgrades. PLM upgrades are painful for customers and usually lead to delayed deployment, extreme migration costs, and other issues. If PTC WC+ solves the problem of upgrades, that's great news for customers. But… (always the "but") if PTC WC+ will provide sufficient customization capabilities. I need to write a separate blog about it because it will take more time.
The second interesting point in the slide above is the Atlas Flow and integration capabilities of WC+. One of the most critical aspects of SaaS adoption is the integration of SaaS products with existing on-prem services. Investment in ERP integration at the first step shows that PTC will need to solve the problem of integration between WC+ (SaaS) and ERP. The latest might be a showstopper for many customers to adopt WC+ (this is my guess).
PTC presented Creo+ together with the Creo 10 announcement. Creo business seems to be doing very well. I noticed the following remarkable quote from Jay Vleeschoouwer from Griffin Securities speaking about Creo's growth in 2022.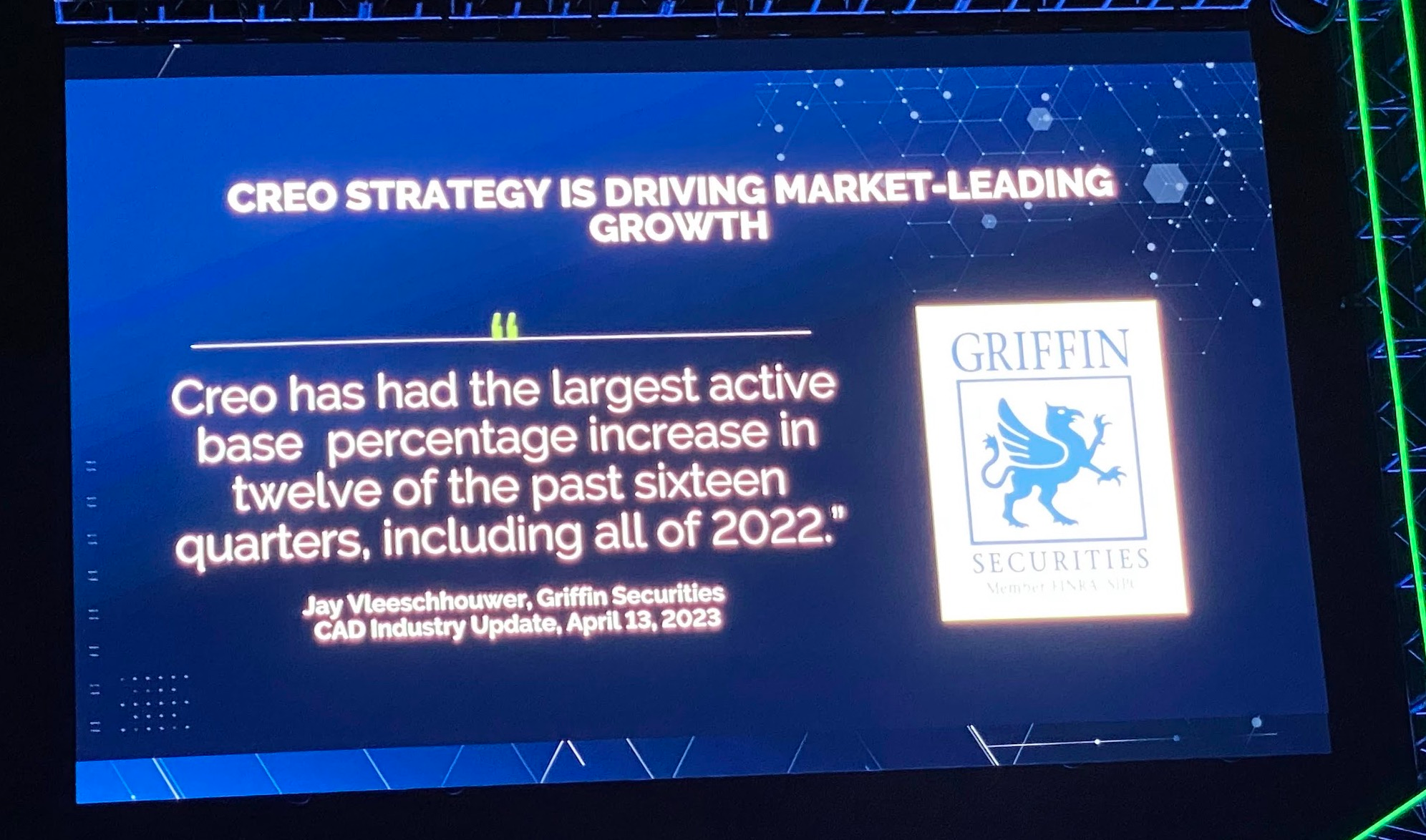 At launch Creo+ focus on 3 topics – (1) session management; (2) collaboration, and (3) licensing management. Future topics include configuration management integration with Windchill+ and others.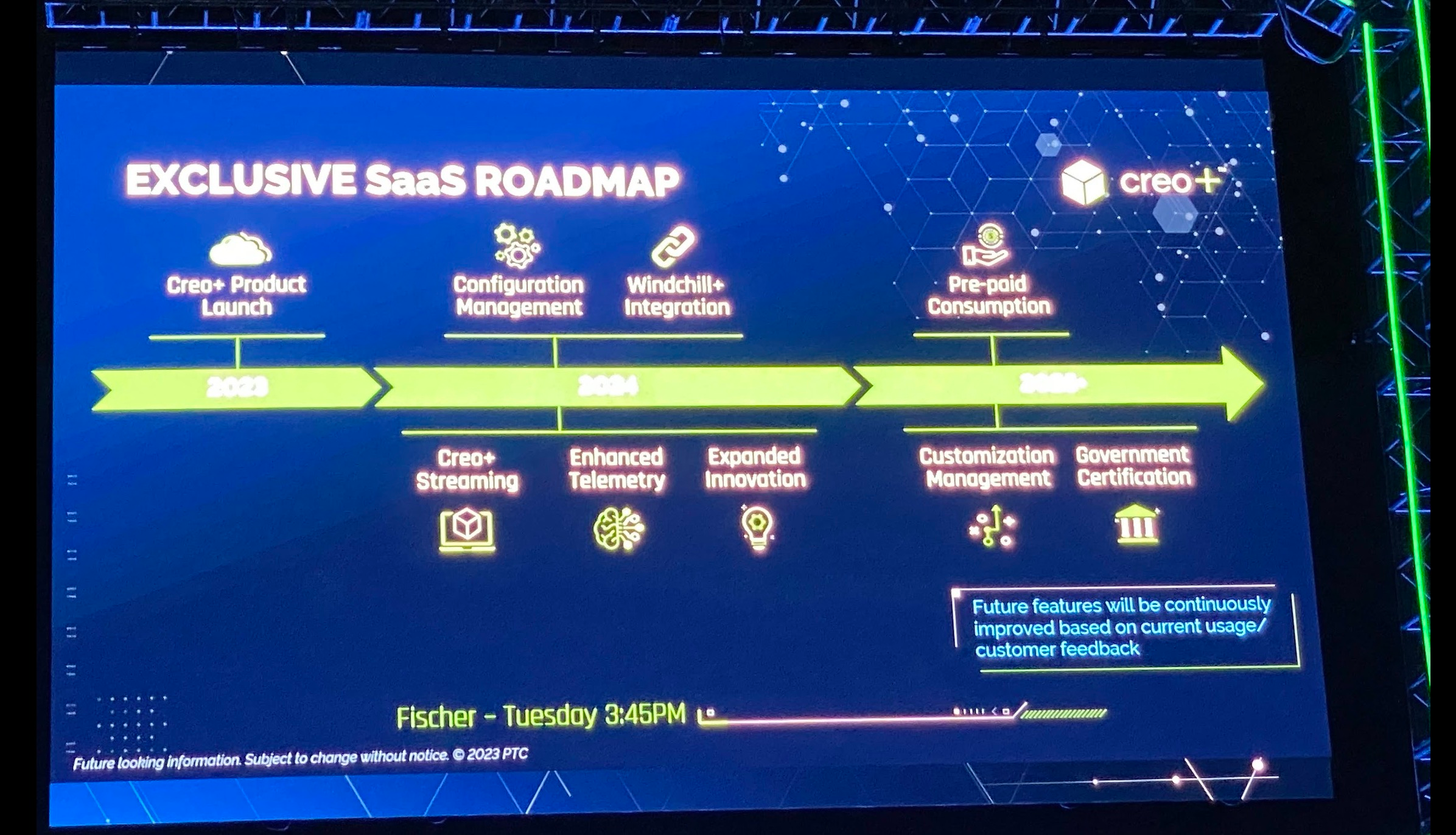 While I don't want to diminish the importance of session management (which will give a boost to your starting time of Creo and ability to manage flexible licenses in a centralized way), the most interesting part of Creo+ for me was collaborative editing and branching capabilities Creo+ brings from Atlas (and Onshape).
The following two pictures can give you an idea of what it can do. It allows multiple users to work with Creo+ and branch their design and do updates in a collaborative fashion.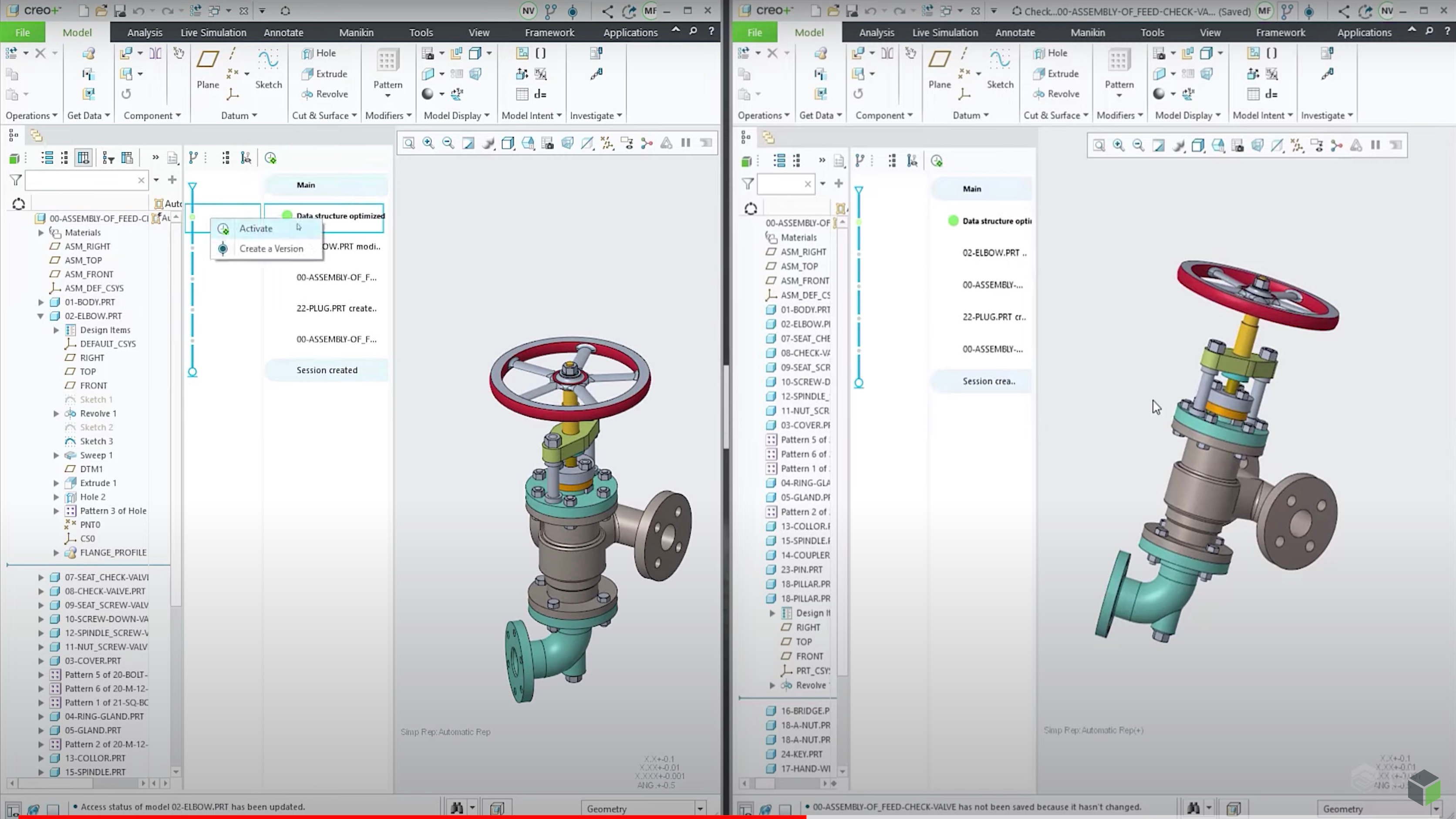 This is how multiple engineers can collaborate.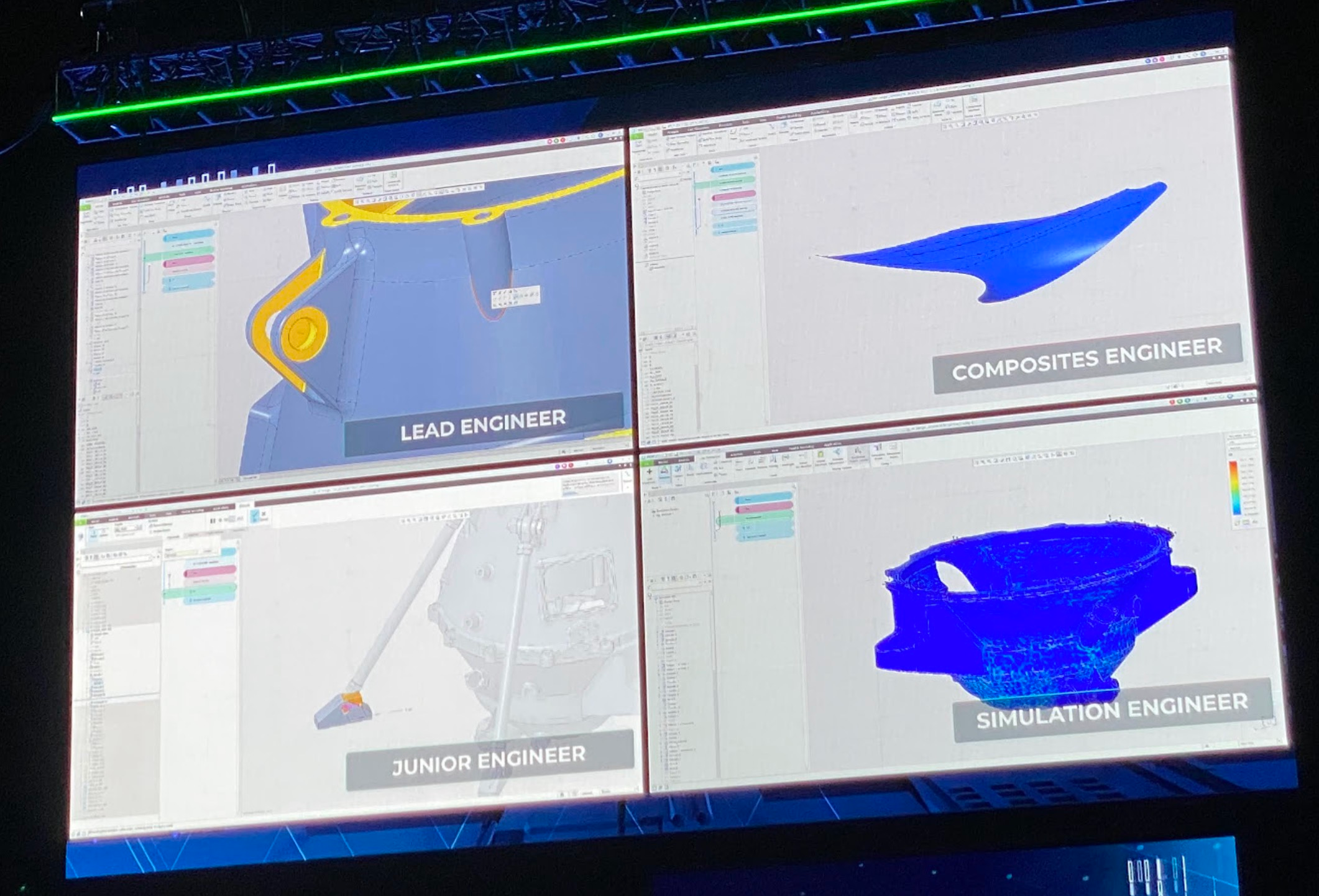 I'm going to learn more about it. I'm also very interested to see how the capabilities of Creo+ collaboration are integrated, intertwined, and overlapping the capabilities of Creo View. Many design and branching workflows are focused on the ability of engineers (and not only) to review the design and exchange notes. PTC Creo View product is now integrated with Arena and, obviously available for Windchill and WC+ customers.
What is my conclusion?
PTC is full speed ahead in the execution of its SaaS strategy. The appearance of + products is interesting and the way they will provide additional value by leveraging the PTC Atlas SaaS platform left me curious. At this point, I can see how PTC wants to move from a "single product" focus to a "platform" focus and it is very encouraging. The seamlessness of on-prem and SaaS offerings is also very interesting. One important differentiation between PTC and other PLM platforms I see at this point, is that PTC is not trying to convince the world that their platform is good for everything – on-prem, hosted, and cloud. This is the indication that PTC understands that cloud/SaaS is not only about charging customers subscription fees but also delivering scalable and multi-tenant services. But, as I said, the devil is in details and we will need to discover more details about what PTC will be delivering with all Atlas and + products. Just my thoughts…
You can get more materials and information from PTC LiveWorx streaming.
Best, Oleg
Disclaimer: I'm co-founder and CEO of OpenBOM developing a digital thread platform including PDM/PLM and ERP capabilities that manages product data and connects manufacturers, construction companies, and their supply chain networks. My opinion can be unintentionally biased.
Best, Oleg