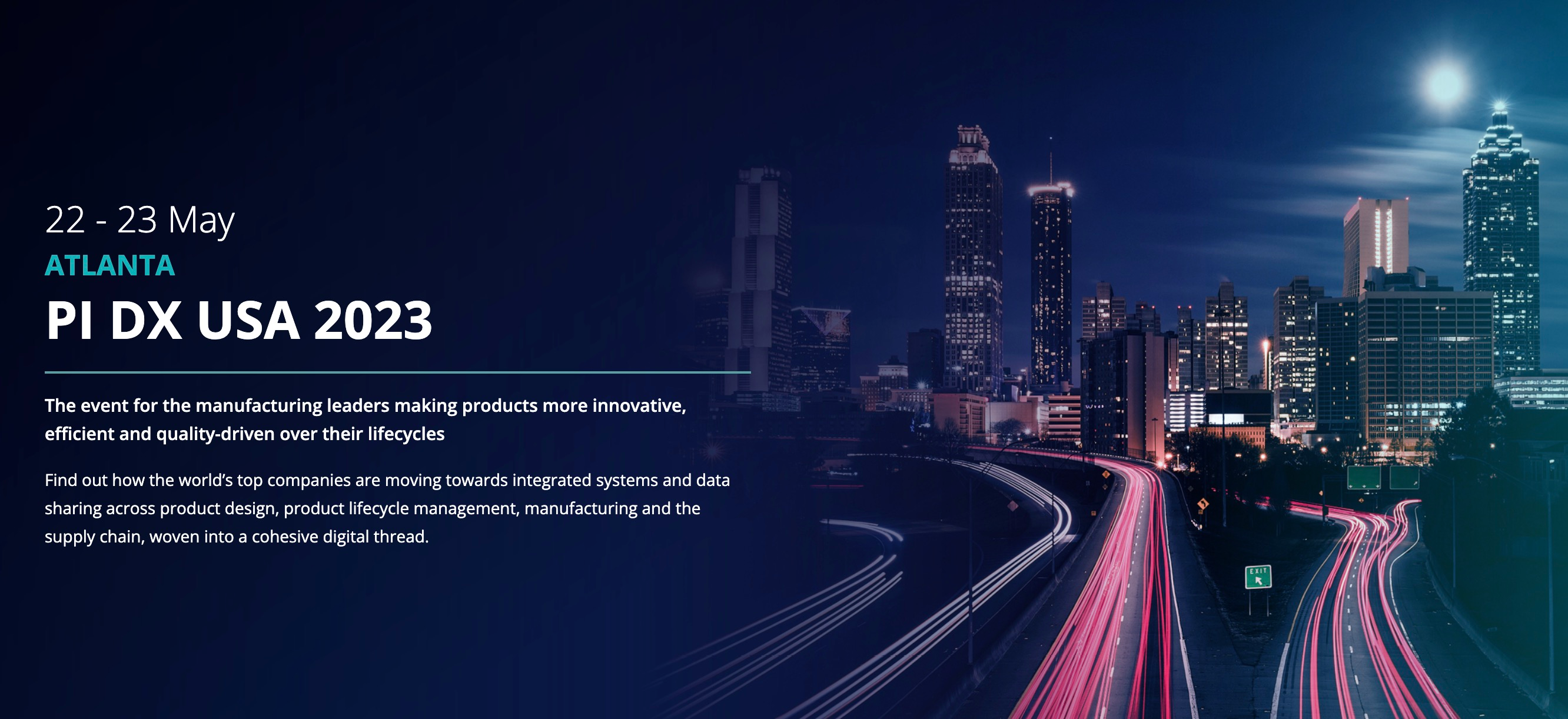 Events are coming back. WHO chief declares end to COVID-19 as a global health emergency, which marks the end of the 'virtual winter era' in conferences. Everyone is coming back to meet and talk to people in real life. Earlier this year, I made a survey with my readers and learned that events are one of the key places where people are expecting to learn about PLM. What makes conferences really valuable is a connection with people. In my article Maximizing your PLM strategy – top PLM conferences to attend in 2023, I put a list of events that in my view worth your attention.
If you're interested in product innovation and the development of integrated systems, you have to go to events and talk to manufacturing leaders making products. If you're an independent consultant, manufacturing leader, or engineering change management specialist, the way to figure out PLM is to learn from others' mistakes and new opportunities and technologies how to do data sharing, develop a cohesive digital thread, and innovate in product design.
I wish I could go to all these events, but it is impossible. So, you need to cherry-pick. One of my choices always will be vendor-neutral events focusing on customers and sharing the experience and knowledge of people. PI events organized by Market Key have a special place in my collection of events starting from the very first event in London more than 10 years ago – PLM Innovation Congress 2021, London.
Why You Shouldn't Miss PI DX USA 2023
The PI DX USA 2023 conference, a premier event for product lifecycle management (PLM) and digital transformation professionals, is set to take place in Atlanta, USA, from 22 to 23 May.
Are you ready to dive into the world of digital transformation and product lifecycle management? If the answer is yes, then you might be joining me and coming to Atlanta later this month. Here are a few reasons why you might be interested to join this event too.
The conference will offer an enlightening blend of keynotes, breakout sessions, and interactive think tanks, providing the perfect setting for learning, sharing ideas, and networking. Esteemed industry leaders, including Stephanie Duffy from Boeing, Paul Kaiser from Moog Inc, Nathan Hartman, Jaswinder Walia, David Sherburne, and a few others. You can learn about key industry trends and insights.
Intrigued by how knowledge graphs and AI?
Interested in how AI can impact future PLM development. In my recent Engineering.com article – 5 Aspects of PLM that will be disrupted by AI, I shared my thoughts and insight about the topic. You can learn much more about how knowledge graphs and AI will go side by side to empower the future of digital thread and the digital web. In my session, I will share thoughts and examples of how harnessing these technologies will accelerate enterprise digital transformation.
This presentation discusses the crucial role of digital transformation in enterprises, emphasizing the utility of knowledge graphs and AI in creating an intelligent, collaborative environment for a digital manufacturing web. It outlines the challenges in digital transformation, such as data fragmentation and difficulty in data-driven decision-making. The presentation explores how knowledge graphs integrate and structure data from various sources, aiding in accessing valuable insights. It also underlines AI's role in automating tasks like data mapping and predictive modeling using knowledge graphs. Furthermore, it underscores the benefits of integrating knowledge graphs and AI in Product Lifecycle Management (PLM) platforms, enhancing product quality, efficiency, and cost-effectiveness.
PI DX USA 2023 Agenda Walkthrough
The conference also offers unique opportunities for delegate-only sessions in focus groups and think tanks. These intimate discussions will allow you to connect with industry leaders and peers on a deeper level, fostering collaborative problem-solving and innovative thinking. PI DX USA is a launch pad for ideas, a catalyst for change, and a beacon for the future of digital transformation and PLM.
Check more about featured speakers and the agenda of the event. It is a great lineup of keynotes, panels, and breakout sessions, focusing on key topics like digital transformation, digital thread, digital twins, model-based transformation, data interoperability, and more.
Here are a few sessions that caught my special attention.
Day one of PI DX USA DX will begin with a keynote from Stephanie Duffy, Executive Director – Enterprise Technology Integration at Boeing, discussing the electric revolution in aviation.
Stephanie is taking the electrification of transport to new heights, leading the engineering team that is developing powertrains, batteries and electric propulsion systems for Aerospace giants such as NASA, the FAA and Boeing. This inspirational keynote will bring you new insights into:
How is this incredible feat of engineering possible?
What is the potential and what are the limitations for the electrification of aircraft?
Expected timelines for the commercial operation of different classes of electric planes
What will Aviation look like in 2050?
This will be followed by a session from Paul Kaiser, Director of Global PLM at Moog Inc, who will explore the disruption of digital thread and the importance of lean portfolio management for agile transformation.
The implementation of Digital Threads is poised to disrupt traditional companies' business operations. In this presentation, Paul Kaiser, Director of Product Lifecycle Management, will delve into the challenges of introducing end-to-end traceability (digital thread) to a traditional aerospace company.
This session will highlight the disruptive power of the Digital Thread and the critical role of agile prioritization in modernizing business processes. A particular focus will be on the need for Platform Governance and Lean Portfolio Management (LPM) concepts to support the Digital Thread and drive change. Attendees will gain a deeper understanding of the complexities of balancing the priorities of integrated PLM, MES, and ERP systems and promoting a unified approach among program teams. The objective of the presentation will be to highlight the need for and challenges of shifting the business case decision process towards a more holistic collaborative approach across the C-Suite. Paul will also encourage the audience to share their experiences and approaches.
Another highlight of the first day includes the panel discussion on "Digital Twin Strategy: How Far Should We Take It and What are the Potential Benefits?" featuring Nathan Hartman, Dauch Family Professor of Advanced Manufacturing and Director, Digital Enterprise Center, Purdue University; Jaswinder Walia, CIO Engineering, GE Aviation; and David Sherburne, an Independent Consultant.
Day two of the conference will start with a think tank session focusing on defining Bills of Material (BOMs) in a model-based world, led by David Sherburne and Laura Beckwith, Director of Product Management at Configit A/S. Another think tank session will cover mastering product complexity with modularity, featuring Luther Johnson, President of Modular Management North America, and Fredrik Erbing, Executive Vice President of Modular Management Inc.
The keynote of the second day will be delivered by Josh Wentz from Google, focusing on the learnings between consumer and enterprise products and the role of AI. Another significant session on the second day includes a panel discussion on the Model Based Enterprise, featuring Kenney Crooks, NG Fellow, Northrop Grumman Systems; Linda Cadwell Stancin, Vice President Engineering and Technology, Lockheed Martin Aeronautics; Nick Drucker, Digital Technology Director, Pratt and Whitney; and Ken Amann, Executive Consultant, CIMdata.
The conference will also feature several breakout sessions, roundtables, and think tanks, providing ample opportunities for attendees to connect with experts and peers, share ideas, and engage in in-depth discussions. Notably, these sessions are delegate-only, ensuring a focused and high-level conversation.
What is my conclusion?
I like PI DX. For many years, it was one of my top vendor-neutral events in PLM business offering a wide spectrum of presentations, but at the same time providing unique access to people sharing knowledge and experience about PLM technologies and implementations.
The PI DX USA 2023 conference promises to be an enlightening and inspiring event, packed with actionable insights and networking opportunities. Whether you're a seasoned professional in the field or just starting your journey in digital transformation and PLM, this conference will provide valuable knowledge and connections to help drive your strategies and initiatives forward.
The best way to discover PLM is to talk to people and PI DX gives you this opportunity. Just my thoughts…
PS: As a speaker at the event, I can give free PI DX passes to people working for industrial companies interested to come to PI DX this year. Please contact me directly via email (oleg at openbom dot com)
Best, Oleg
Disclaimer: I'm co-founder and CEO of OpenBOM developing a digital cloud-native PDM & PLM platform that manages product data and connects manufacturers, construction companies, and their supply chain networks. My opinion can be unintentionally biased.